Posted on
November 23rd, 2010
by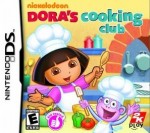 Cooking video games are all the rage lately, but sometimes they can be a little frustrating for younger gamers. Now the littlest chefs in your family can have their own cooking game starring Nick Jr.'s starlet Dora the Explorer. Join Dora as she helps her family prepare for the Favorite Foods Festival in Dora's Cooking Club for DS.
Dora will help her family make recipes like enchiladas, pizza, and salad. Each recipe has a stream of mini-games. Some imitate cooking actions with the stylus, like stirring or chopping (Dora says you're showing the adult where to chop, since this is geared for little kids who aren't old enough to use knives).
The other set of games reinforce math skills, which is fitting since real life cooking uses a lot of math. Youngsters will learn number recognition, counting (up to 40), size comparison, as well as more advanced skills like fractions with pizzas. The game can tell if your child has mastered a skill and will start making the math challenges a little more difficult.
Kids can play the recipes in sequence or try each mini-game separately. Parents can check on their kids' progress and see how far they are progressing on math skills. The only problem with the game is that it's a bit short and kids might get bored quickly. Reading skill isn't needed as everyone has spoken voice. One of the best things about the game is the instruction booklet, which has all sorts of real-life recipes you and your kids can try. Which is great since many people are spending more time in the kitchen this time of year.  Dora's Cooking Club is rated E for Everyone.