Posted on
April 5th, 2013
by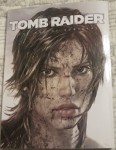 The recently released Tomb Raider game on current gen consoles reboots the franchise and the popular Lara Croft character. And it seems to be pretty successful, too. Now you can experience all the creativity and craftsmanship that went into the visuals in the game with Tomb Raider: The Art of Survival, a new book by BradyGames, the same folks that publish all those strategy guides. Let's take a peek at what you'll find in this over 200 page book.
This art book is divided into several sections. You can view all the main characters, game environments, weapons, marketing, and concept art. But first they have pictures of members of the teams who made the new Tomb Raider game. This is always nice because I like putting names to faces, which is why I enjoy going to places like E3 and PAX as well as other live events. Oh, and please forgive my pictures and the glare and thumb shots, as I'm not the best photographer in the world (that's my thumb in those shots, by the way).
The first section of the book shows all the main characters in the game. This includes Lara Croft and the crew onboard the ship she's on at the beginning of the game, as well as the bad guys she fights on the island where she gets shipwrecked. While the art book does a good job of keeping game spoilers to a minimum, there are a few spots here and there that really can't be helped. It can't be a comprehensive art book without showing everything, so take care if you want to thumb through the book but haven't played the game all the way through yet. For that reason, I'm only going to show a page from the character section featuring Lara Croft and nobody else.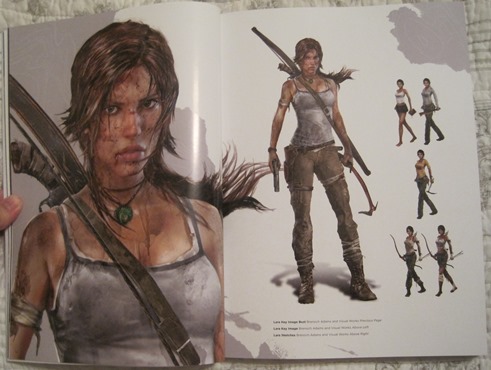 The next section of the book shows off all the environments in the game. In fact, the majority of the book is dedicated to the locations you'll explore. Perhaps a bit too much is featured? At any rate, on some pages you can read tidbits on what inspired certain scenes.
Next up are illustrations of all the weapons and items found in the game. Lots of bows and arrows, as well as pistols, rifles, and other guns.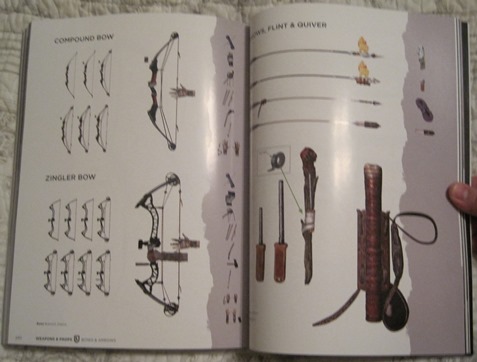 After that is a small section on the art that went into the marketing of the game. Box art and logos are important, too, as they have to be instantly recognizable in black and what as well as a multitude of other colors, too.
Last is various concept art and illustrations that may or may not have made it into the final game. My favorite is this page featuring Lara (?) with some monkey pals. Awww, I wonder what their names are?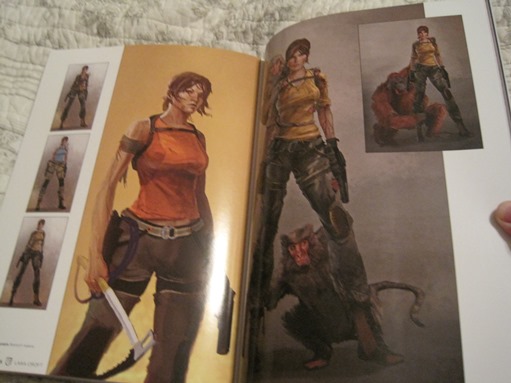 And that's all there is to this art book! I have to say that it's very well done, and I'm not even a big Tomb Raider fan! If you have a budding artist in your circle of family and friends who wants to make art for games someday, this may be a good book to get for them, as it divulges some behind the scenes nuggets on what it takes to be a video game artist and what kinds of work and inspiration went into the making of this new Tomb Raider game. A couple of the pages have some scary images, so I wouldn't let young kids read this. But then, it is based on an M-rated game after all.
I guess the only problem I had with the book is that I wish it was hardcover instead of paperback. But then, I guess they wanted to keep the price down. However, the Zelda Hyrule Historia art book I reviewed a while back was hardcover and less expensive than the Tomb Raider book. But oh well, the Tomb Raider book is still reasonably priced at under 30 bucks. It also would've been nice to have a bit more history on Lara Croft and her past games, but I guess they wanted to focus on the new game only, which is understandable. At any rate, I was still impressed with this art book and if you enjoyed the new Tomb Raider game, you will be, too.