Posted on
April 22nd, 2015
by
Now you can run your very own horse ranch and take care of horses with Horse Haven World Adventures.  It's a free-to-play simulation game downloadable on iOS and Google Play (reviewed on iPad here).  Horse Haven is one part Farmville farming simulation where you buy and place stables, barns, and fields.  The other part of the game is similar to a virtual pet simulator as you clean, feed, and take care of your horses.
In the farming sim part, you'll build and arrange storage barns, fields, and stables.  The stables are where your horses live, and you'll grow food for your horses in the fields and feed mills you build.  Store extra food in your storage barn.  You can upgrade fields to grow more crops and upgrade your storage to hold more items by spending coins.  Earn coins by completing certain objectives and performing specific tasks.  When you build structures or grow crops, it takes time for them to finish.  But just as in Farmville, you can use the Internet to ask for help from other peoples' farms to speed things along.  Level up your horse ranch by performing tasks and you'll be able to buy more buildings and upgrades.  Later you'll be able to buy and breed horses, too.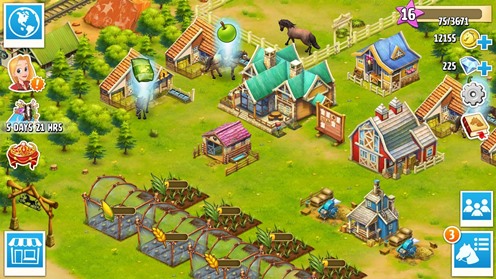 Speaking of horses, the other part of the game is a virtual pet simulator where you'll go inside the stable and use the touch screen to clean, feed, and take care of your horse via various activities.  You'll gain experience points every time you meet your horses' needs, and when they level up, they'll gain more stamina and require different kinds of food and care.  They'll grow from a foal to an adult horse, and when they are fully grown, you can enter them in steeplechases.  In the steeplechase, you'll play a mini-game where you tap the touch screen to make your horse jump over obstacles and collect coins.  Later on in the game, you'll be able to breed and enter steeplechases in other parts of the world like France and Russia.  You'll be able to buy and breed different species of horses in hopes of getting better and better ones for your ranch.  And you can buy accessories and decorations for your horses and ranch, too.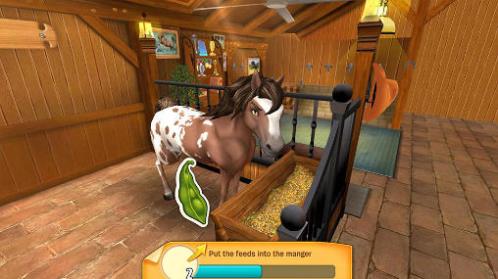 As a free-to-play game, you'll have to deal with pop-ups every now and then trying to encourage you to use real money to buy more coins and diamonds, which are used in the game to buy things and speed up building processes.  And while things move quickly at first, later on events slow down and it'll take longer to build more things unless you plunk down some cash.  But horse lovers and farming fans may want to check this one out anyway.
Kid Factor:
Reading skill is needed for the text, and parental supervision is recommended for the in-game purchases.  But kids who love horses will enjoy this game at least for a while.