Posted on
December 14th, 2015
by
Monster High is a popular toy line of girl teen dolls who are based on monsters, and now your little monster can create her own ghoul and explore Monster High in a new game for consoles and handhelds (3DS version reviewed here).  First you'll need to create your character by choosing her monster type, hair style, skin and hair color, and outfit to wear.  Then you'll play out your first days as a new student of Monster High.
You'll explore a 3-D version of the Monster High campus, talking to classmates and teachers, learning about and joining clubs, and running errands for people.  So yeah, pretty much a bunch of fetch quests in a spooky school setting.  You can view a map that tells you where to go next, or you can just follow the purple arrow that guides you where you're supposed to go.  I recommend just following that arrow, as the map can be confusing to read.
If you have to retrieve items, you can press a button that acts like a radar telling you which direction the items are.  But it only works if you are in the same room, and it doesn't work very well.  In one mission I had to gather plant food for the "Biteology Envire Club" and the radar said one vial of plant food was straight above me, but I couldn't figure out how to get to it.  I saw some vines that looked like I could climb them, but the game wouldn't let me.  If I encountered a road block like this, I can't imagine how this would stump the game's target audience of young kids.  You know how on your first day of high school when you had to figure out where the heck all your classes and locker was?  Remember how much fun THAT was? (Sarcasm intended)  Well that's pretty much the whole game here.  I can't recommend this one to anyone unless you are a very dedicated Monster High fan.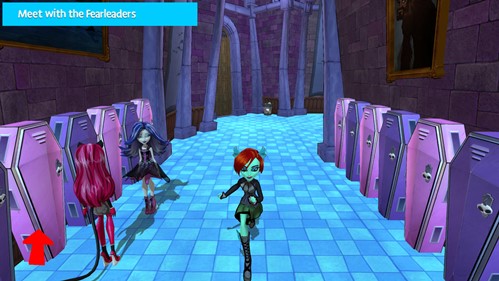 Kid Factor:
While there is lots of spoken voice, reading skill is still needed for some of the text, menus, and dialogue choices.  Younger gamers may get frustrated by the confusing maps, unclear goals, and annoying gameplay.  Monster High: New Ghoul in School is rated E for Everyone.