Posted on
December 20th, 2018
by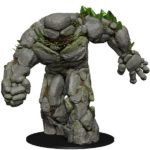 Role Playing Games have surged in popularity in the past couple of years. If someone in your life shows a leaning towards imagination, creativity, or storytelling, an introduction to the world of role-playing games might be in order. In the past few years I've mentioned a few in the annual Unplugged guide, but the resurgence of the hobby deserves its own list this year. If you're thinking about adding a role-playing game to your holiday gifts or activities, here are a few examples and ideas spanning a wide variety of types and recommended ages.
Overview
The big boy on the playground is Dungeons and Dragons, who have scaled back some and are now releasing fewer, but higher quality titles than in the past. The Pepsi to D&D's Coke is the Pathfinder system. A slightly more tactical RPG, Pathfinder is undergoing a public, freely downloadable "beta test" in preparation for the release of a new version in August 2019. Meanwhile, its Sci-Fi cousin, Starfinder, is going strong with the continued support of adventures and supplements. More and more attention is being paid to kid-friendly role-playing with a slew of adventures and entire rules systems targeting the younger set.
Dungeons & Dragons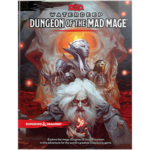 5th edition of Dungeon and Dragons rolls along like a steamroller, at least if you follow the burgeoning "D&D streaming community." Ah, these young folks with their crazy ideas and that newfangled "internet." This past fall saw the release of Waterdeep: Dungeon Heist, an adventure book for beginning levels that take characters through an urban adventure. It is a great introduction to the game, full of hijinks, chases, and even gives players their own base of operations. It also has the distinction of having four different master villains available, allowing the DM to choose which one is best for their group. Players completing that adventure (or any higher level characters) can change over to the Dungeon of the Mad Mage. It's a huge dungeon crawl through the Halls of Undermountain, beneath the city of Waterdeep. Perhaps the most interesting release is the book, Guildmasters' Guide to Ravnica. This is a fully fleshed out setting taken from the back story of the Magic: the Gathering release of the same name. Ravnica is a world-spanning city, home of ten different guilds (or factions) each with distinct personalities and goals. It is a great setting for adventures featuring mysteries, social interactions, and subterfuge. Since gamers can never have too many accessories, one can also buy a Waterdeep: Dungeon Heist style set of dice or a complete set of 26 different maps covering the Dungeon of the Mad Mage and its environs. Those looking for flair or bling for their table can look no further than Wizkids' Icons of the Realms: Waterdeep Dragon Heist line of miniatures featuring creatures and important characters from the story, sold in boxes containing a random set of miniatures. The set contains basic figures to round out a city (commoners, nobles, or the city watch) as well as rare figures representing the four possible major villains. Gamers can also get ahold of the special accompanying City of the Dead Set of miniature statues and monuments in order to recreate one of the important locations within the adventure.
Paizo – Pathfinder / Starfinder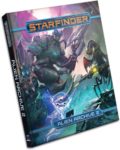 As mentioned, Pathfinder is undergoing a playtest to prepare for its second edition release in August of 2018. In the meantime, the last "1st Edition" title released was Planar Adventures – with rules and guidelines on how to run a world or planar hopping campaign (such as heaven, the plane of fire, etc….) Meanwhile, Starfinder, where players portray alien species exploring the star lanes, continues with another ongoing adventure campaign – the Signal of Screams, where players race to foil the pandemic started by an insane scientist. It is somewhat dark in theme, but in January the Dawn of Flame adventure series will start up and that should be much more family-friendly. The new Alien Archive 2 gives players more race options (like uplifted bear, or sentient slug) and GMs more monsters to challenge them. Finally, the Starfinder Armory is full of sci-fi and quasi-magical equipment, upgrades (to both items and characters) as well as a few feats to round them out. As for fancy tableware, Paizo has you covered with several sci-fi themed Flip-Mats (double-sided maps that make any marker erasable) such as a hospital or a ghost ship.  Wizkids also publishes minis for the Pathfinder line, note the Earth Elemental Lord (used as the lead image of the article) which comes from the Pathfinder Battles: Kingmaker line.
Thornwatch

An RPG with boardgame-like mechanics, Thornwatch is an RPG based around lore created by the folks at the popular comic website, Penny Arcade. The lavish artwork and much of the storyline comes from the writers and artists there. The artwork it is really one of the big selling points of the game. While the game rules and story hold up just fine by themselves, the system is best for those who appreciate the game's graphic novel style. Throughout the game, it leans heavily into its art to help story immersion. The theme is set around the Eyrewood, a high fantasy setting that includes organizations such as the Lookouts (boys) and Daughters of Eyrewood (girls) who protect the forest. Encounters run almost as a boardgame, with a set of combatants in a tableau while player characters use their resources and abilities to manipulate that row in their favor. A goal of the designers was to create an RPG game where "no one checks their cell phone" as the game experience allows players to participate even on other players' turns. The base game has the typical character styles (healer/tank/damage dealer, etc…) and several branching storylines that can be pursued. An expansion, Dark of the Wood brings in more esoteric character styles that use more untraditional play styles, like using wounds as resources. It does not have a branching storyline but has an episodic arc. Players pick a starting season (spring/summer/fall/winter) and then go around the loop until they get back to the season in which they started.
Kid-friendly RPGs
I'm always on the hunt to find quality RPG material to play with my (young-ish) kids. Gaming with kids is somewhat of an "in thing" at the moment so there are plenty of good options around.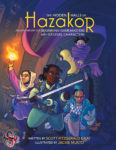 My boys are able to follow along with the rules of 5th Edition D&D but it is nice to find adventures that are a good fit for their age group. One example is The Hidden Halls of Hazakor. Not only is it a kid-friendly adventure, but it is also tailored towards beginning GMs with advice on how to organize and run an RPG session. The advice given runs the gambit from how to put life and uniqueness into NPCs and monsters to how to manage things at the table so the GM is free to let the players run around a bit and not be overwhelmed by all the directions an adventure can go. A second recommendation would be Legendary Beginnings: A Feast of Flavor. This is another kid-friendly 5th edition adventure. It's noteworthy due to the set of cards which can be printed out and then passed around to help players understand options and conditions in the game as well as important plot points and characters in the story. Both of these adventures can be found at the online store www.DriveThruRPG.com, my go-to spot for picking up interesting new adventures or even new RPG rulesets.
Speaking of other rules sets, I'm a fan of Monte Cooke Games' very kid-friendly RPG, No Thank You Evil! It has been so popular it went out of print but is available again, probably not in time for Christmas but possibly for New Year's vacation. The game is very story and imagination-driven, with player's characters developed from a few descriptive traits rather than a set of rules and numbers. It is available in PDF form, but the box set has a wealth of fun items that add to the immersion of the game. There are two new supplements for the game, I'm a Guide and Uh-oh Monsters. Unsurprisingly, Uh-Oh Monsters provides a host of new creatures (and accompanying paper stand-ups) and a new adventure for the system. I'm a Guide is a hands-on guide for kids to help them figure out how to GM a game for their friends. It contains stickers, props, and a full workbook for kids to go through in learning and preparing for a game.
I picked up The Cloud Dungeon just the other day and felt its uniqueness deserved a mention here. This is a sort of combination RPG, arts and crafts, and rainy day activity book all in one. Players use the main book to play through a story (or stories) while cutting out papers and figures to represent what is going on in the game. Player's character stats are listed on handy standees and part of the character creation process is the artwork (markers, scissors, glue, etc…) put into them. It seems to be part story-driven RPG and part arts & crafts which combine to create a rather unique experience.
3D Printing

One of the coolest technologies that's developing fast, but yet not getting much traction is the 3D printing industry. I've been a fan for a few years, and will be the first to admit 3D printing still isn't for the technological faint of heart. However, technology and gamers have considerable overlap and gamers have found ways to use 3D printing to add to their RPG table. There are many decent lines of miniature terrain (search for OpenLock for example) but more and more companies are selling 3D files that users can use to print as many times as they want. Fat Dragon Games has been in the RPG terrain business for many years (as papercraft) and have gone all-in in the realm of 3D printing files. Over the years I've given their files the once-over, printing out a few sets of figurines and terrain. I have to admit you get what you pay for, as the files gave very good results with a minimum of hassle. I particularly recommend the Village Buildings line for producing cool little houses that could also fit just fine into a little girl's room.  They even provide a free set of sample dungeon tiles so you can see how they print out.  I've also had good luck with Printable Scenery, who sell 3D files that are directly compatible with the OpenLock system.
Conclusions
Most people acknowledge the need for children to play make-believe in order to help develop their creativity. Role playing games give that opportunity to both young and old. Unlike a typical boardgame or videogame, role playing games are free-form and can take players anywhere they wish. Sure, there's some math and other problem solving bits involved to justify it as an educational activity, but the creativity it allows – either playing or running a game – is where the true benefit lies.