Posted on
November 27th, 2017
by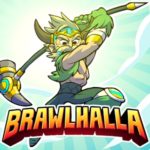 Over the past year or two, there's been a free-to-play fighting game that's taken the PC world by storm.  I know because I've seen it at recent PAX shows I've been to.  And now it's available on PS4 and Steam as well!  All are still free-to-play and supposedly cross-platform online as well.  Brawhalla is a cartoony four player fighting game that resembles Super Smash Bros. quite a bit (reviewed on PS4 here).
With a name like Brawlhalla, you'd think it would have more of a Norse mythology theme, and it kind of does, but there are a wide variety of characters to choose from, including cowgirls, Vikings, aliens, superheroes, dragons, and more.  Admittedly, the characters are still a bit generic, but it's hard to complain too much with a free game.  Similar to Smash Bros., you fight in 2-D arenas and try to knock other players off the stage.  When you hit someone, their damage meter goes up, and the higher their damage meter is, the farther they'll fly when you hit them.  Fighters can run, jump, and use weak, strong, and charged attacks.  You can pick up items like character-specific weapons for a more powerful punch, as well as throwable items like bombs, spiked balls, and land mines.  One new feature in this game is that you can wall jump, similar to how Mega Man X does.
There are many game modes to choose from.  Casual online matches can be found in the Play Mode.  Ranked has all the competitive online matches.  You can create your own rules in a Custom Game Room, or challenge the Brawl of the Week.  There are also several offline modes for local couch multiplayer as well, including up to four player battles, practice, and training modes.  You can also view your progress and stats in the Meet the Legends screens as well as buy things at the Store.  You can buy things like new characters, colors, outfits, podiums, and more with Mammoth Coins.  You can earn Mammoth Coins by playing the game, but you can also purchase them using the PS Store.
Aside from the rather generic characters and stages, the only other problem I had with the game is that during matches, it can sometimes be hard to tell who your character is and where they're at.  If there was some way to mark your character somehow, I couldn't find it.  But other than that, for a free-to-play game, Brawlhalla is pretty good.  The controls are easy to learn and are light and quick (although I wish they would've told how you to throw items in the tutorial).  And playing online is easy and fast and seems pretty flawless to me (Nintendo and some other companies can learn a thing or two from these guys).  If you enjoy Smash Bros. style fighters, you stand nothing to lose by trying this one out!
Kid Factor:
Brawlhalla is rated E-10 with an ESRB descriptor of Fantasy Violence.  You do smack other characters around with weapons, fire, and other things, but the violence is only cartoony and just like Smash Bros., at the end of the round everyone is OK and clapping for the winner.  Parental supervision is recommended for the in-game purchases, but they don't feel very invasive with that sort of thing, and as long as you can figure out parental controls on the PS4, I think this game would be great for the whole family.  And the price is right, too!