Posted on
October 20th, 2008
by
At some point, most little girls dream of becoming a princess, wearing fabulous gowns and dancing at the royal ball. And now they can with Princess Debut, a music/rhythm dancing game on the Nintendo DS.
In the game's Story Mode, you play as a schoolgirl who wishes to be whisked off to a magical world where fairytale kings, queens, princes and princesses exist. And just like that, she is magically teleported to such a world. Soon after, she finds out that in 30 days is a big royal ball, and she must learn to dance! Players spend the majority of the rest of the game practicing dance moves and meeting the princes that might just become her dance partners!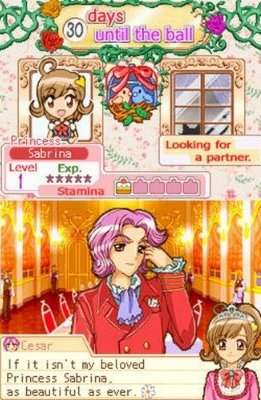 The meat of the game is in the dance mini-challenges, which play out like simpler, easier, kid-friendly versions of Elite Beat Agents (another popular DS music title). Girls will slide the stylus on the touch screen, tracing the lines to the beat of the music to pull off dance moves. Perform well and level up to earn more stamina and learn new songs and dance steps. And sometimes even new accessories and dresses to wear out on the dance floor.
When you're not practicing, girls can explore the rest of the kingdom, and maybe run into one of the dashing princes. Get to know them better and say the right things and one of them may even become your permanent dance partner! When you're not in Story Mode, you can practice all the songs and view the dances in Movie Mode.
While the generic anime styled characters have a sort of Studio Ghibli "The Cat Returns" vibe to them, the 3-D graphics of the unblinking dancers appear a little stilted and cheesy. But the audience that this game has been designed for won't be bothered by that. Gameplay is also a little repetitive at first until you learn more songs. But while it doesn't look like it at first, Princess Debut is a surprisingly solid game that young girls who 'ooh' and 'aahh' over Disney and Barbie princesses will probably enjoy.
Kid Factor:
Princess Debut is rated E for Everyone. Strong reading skills are a must, as everything in the game is text based. The challenge level is set just right for young gamers: not too hard for them to get frustrated, but challenging enough so girls won't get bored. All the songs in the game are well-known pieces like Swan Lake and When the Saints Go Marching In, so playing the game can have the side effect of developing an appreciation for classical music. Obviously, of course, this game is meant for young girls only. Heck, I'll tolerate most any game, but even I had to take a break after playing this to go play a more MANLY game like Kirby…er, I mean, Soul Calibur 4. But even though this game lacks any recognizable licensed characters, little girls who enjoy fairytale Disney stuff or are fascinated by the performers on the Dancing With the Stars TV show will find something to like in Princess Debut.