Posted on
October 25th, 2008
by
Natsume's popular farming simulation series of games, Harvest Moon, is celebrating its tenth anniversary this year (has it really been around that long?). And so in honor of such a bountiful harvest, Natsume is cultivating Harvest Moon: Tree of Tranquility for the Nintendo Wii. Is the newest addition a bumper crop or a dust bowl? Read on to find out:
In Tree of Tranquility, choose to be a boy or a girl and set out for a new life as a rancher on a remote island village. After arriving by ship, meeting the locals, and settling in, it's up to you to make a living by farming. You can grow all sorts of crops and flowers, just make sure to water them every day and harvest them when they're ready. You can also have pets and raise all sorts of livestock: cows, chickens, sheep, goats, horses, even ostriches and silkworms! The only farming related thing you can't do in Harvest Moon is drive around a big ol' green John Deere tractor!
But Harvest Moon isn't just about farming, it's about farming LIFE! When you're not down on the farm, you can go fishing, explore mines, build onto your house and decorate it with furniture, take a part time job, visit townsfolk, make friends, even marry and start a family! And then there's the Harvest Goddess to rescue and the Mother Tree to revitalize. There's SO much to do in this Wii Harvest Moon game that I can't even cover it all!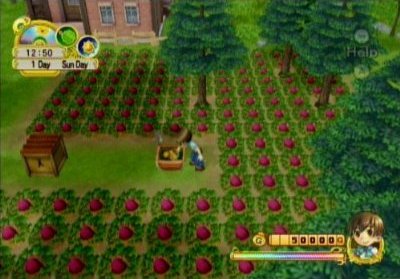 But the gameplay experience isn't without a few snags. This new Harvest Moon game starts out very, very slowly. You'll hear about all this cool stuff you can do, but when starting out, you'll find you have barely enough time and energy to keep a small garden and walk around town. And it's a little frustrating. Not only that, but the game somehow manages to be slow paced and fast paced at the same time since you always have to deal with an ever present clock and time of day, and you don't want to be out too late and tire yourself out. And your little farmer doesn't have a lot of energy at first. Picking up a couple of weeds or tilling the dirt a few times drains your farmer's energy and keeps you from doing anything else for the rest of the day.
The visuals and audio are very dated, even by Wii standards, but the audience this game was meant for won't mind a bit. Play control is simple and easy to learn, you can even use the Classic Controller if you like. But there's not too many motion controls, and it's just as easy to push buttons. Outside the main game are a few multiplayer farm based mini-games that seem like a good bit of family fun, too bad only one is unlocked at the beginning. Harvest Moon: Tree of Tranquility is probably the most involved game in the series yet. It'll definitely please fans of the series, but outsiders might be a little put off by its slow pace and other minor quirks.
Kid Factor:
Harvest Moon: Tree of Tranquility is rated E for Everyone with ESRB descriptors for Alcohol Reference and Comic Mischief. But most of that just relates to things in the text. Speaking of which, strong reading skills are required as the whole game is text based, and there's lots of it. There are plenty of things to do and learn in Harvest Moon games for kids, but they'll need to be very patient gamers to put up with the slow pace of the gameplay. It's a shame there's not a 'sandbox mode' where kids could have played around with all the farm animals and crops and whatnot without having to worry about money or time. Maybe they can add that in a future Harvest Moon title?