Posted on
January 29th, 2009
by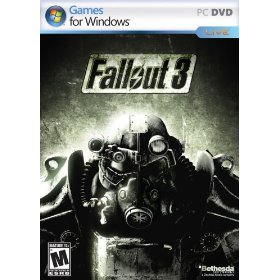 Fallout 3 is an interesting game – it is one that has inspired some of the greatest pre-release angst and discord in the history of gaming for several reasons. First, it is a new entry into one of the classic franchises of gaming, made a decade after the last entry. Second, the look, feel and playstyle are nothing like the original games. Finally, it was being developed by the same folks who brought us Elder Scrolls IV: Oblivion. The last one is interesting because depending on several things, that is either a really good thing or a really bad thing. But in the end Fallout 3 was finally release and can be judged for what it is – a game. So how does it do? Read on and find out!
A quick summary: Fallout 3 is set in the Washington DC area more than 200 years after an apocalyptic nuclear war pretty much destroyed the world. You are a child born and raised in one of the 'vaults' designed to protect people from the radiation that have grown into hive-like societies apart from the wasteland outside. The wasteland is the vast outdoor world, dotted with towns and villages built into and out of all manner of abandoned buildings and scraps. Your quest takes you immediately out of the vault and into the harsh and brutal wasteland. As the Kid Factor will mention, this is a brutal and mature game aimed at adults, not intended for anyone under 17.
Fallout 3 plays like an action or FPS game, but it is a hardcore RPG under the 'beautifully ugly' skin. There is a long main quest that will drag you all over the world, loads of optional side-quests and sub-quests and mini-quests and mini-games and hidden items and so on. The 'SPECIAL' system (Strength, Perception, Endurance, Charisma, Intelligence, Agility and Luck) for attributes is here, as are Perks and Tag Skills, and you are able to see them in use throughout the game. There are plenty of people to interact with along the way and loads of things to discover.
I have heard someone say that reading any 'honest' Fallout 3 review is like listening to someone argue with themselves; it is like a pair of discordant voices – one saying it is great and the other shouting about all of the flaws. There are loads of things I could talk about regarding this game, but rather than delve into too much more detail I'll just list some of the core elements of the game and give a quick good/bad description.
Graphics and Sound: The soundtrack is beautiful, and the graphics are 'beautifully ugly'. The external environment and recreation of the Washington DC area is … staggering. You feel slightly blinded by the glare of the sunlight as you stagger out into the wasteland, with the desolate landscape of rubble, ruined buildings, half-destroyed overpasses stretching before you as far as the eye can see. I showed some familiar DC landmarks to my family and they thought it was pretty amazing stuff.
Combat: Fallout 3 features two systems – a real-time FPS (first person shooter) mode and a pseudo-turn-based mode called 'VATS' (Vault-Tec Assist Targeting System). Both provide fun alternatives, but each is flawed. A FPS where you can miss based on your character's skill level rather than your own ability is seldom satisfying, and that makes the game feel like a 'sloppy' shooter. The VATS system is a nice compromise
Quests & Story: There are loads of side-quests, some that are complex and branching and many that allow you to solve them in a number of ways. Sadly the end-results of so many of these cool quests feel sterile and unsatisfying. The main quest is practically nonsensical, and the morality forced upon you by the game feels braindead at times. That isn't to say that even the silly and brain-dead quests aren't fun: things like 'Those', 'Power of the Atom', 'Tenpenny Tower', 'Android', and 'Family' are all loads of fun … and there are just so many others that will keep you going. Just don't look for the depth or quality of the original games and you'll be happy.
Controls: If you are playing on a console you are all set – the game was designed with you in mind. If you are playing on the PC, prepare for compromises and frustrations due to the console-centric design. I won't labor the point again, but it bears mentioning that the lack of testing of PC controls extends to being able to remap the key to call up the PIP Boy but not the one to dismiss it; and you can also modify the 'WASD' movement keys to a popular variant such as 'ESDF', but you cannot change the key assigned to 'Force' a lock, which is also F … meaning that the lockpicking mini-game won't work correctly unless you forgo using your preferred movement keys. The majority of the control system works pretty well, but a couple of design choices directly and solely make the game less convenient for PC gamers and feel like a slap in the face to long-time RPG fans.
Dialogue and Writing: Let me just say that when Pete Hines said to Eurogamer that "Dialogue wasn't a battle we wanted to pick. … we just don't have unlimited monkeys and typewriters" I was reminded of a classic Dilbert strip that sums up my feeling on the quality and level of writing in Fallout 3:
RPG Elements: I love how many skill checks there are throughout the game, and the way I can see the impact of my specializations directly in my actions, but hate how quickly I was able to level core skills to the point that I seldom felt like I was missing 'the other fork in the road'.
Mini-games: I lovethe lock pick game – it really required skill and showed the impact of your tag skill. The Stealth system was also very well done – not at the level of the Thief games, but far better than Oblivion. However, I hate the hacking mini-game … it is random and boring and you can skip failure by stopping and restarting infinitely without penalty.
Conclusions: There has been much talk about comparing this Fallout to the earlier games … yet I have really not done that much. Why? Because it just doesn't matter. Fallout 3 is its' own game, set in a universe that many of us know from past games, but none of it matters – the point is that this is a very good game loaded with excellent features and enough bugs and flaws to completely obliterate most games. Somehow it all works; somehow you can forgive the silliness and lack of depth and closure and lousy writing and combat issues and on and on. Somehow you just keep coming back, trying to avoid hitting the end of the main quest so you can just keep on exploring the Wasteland. I cannot say it is the best game I've played this year – it falls behind King's Bounty, the just released Geneforge 5 (for the Mac only right now)), but is better than the recently released NWN2: Storm of Zehir expansion. But it is a really good game and certainly one of the better games I've played and one that I wholeheartedly recommend as a 'must buy' to all *adult* fans of RPG's and action / shooter games.
Kid Factor: There isn't really a 'Kid Factor' for Fallout 3 because this game makes little pretense about the fact that it is aimed at adults. The level of violence and gore alone mean that it should be off-limits to all but older teens, with the ability to dismember enemies in slow-motion and watch their heads roll down the street. Then there is the drug use and drug addiction portrayed without real consequences (but plenty of empathy), as well as the prostitution that is present in every town. The folks you meet are coarse and so is their language. The desolate wasteland of Fallout 3 is a harsh place in pretty much every way – and while the original games used more 'dark humor' to deal with that harshness, Fallout 3 is just a dark, gloomy and harsh place intended for adults.
Note: my 'full' 5 page review with much more detail can be found at RPGWatch.