Posted on
December 17th, 2010
by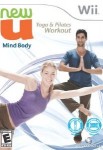 Instead of celebrating the New Year, you can celebrate a New You with New U Yoga and Pilates Workout for Wii. It's a new fitness game that combines Pilates and Yoga exercises, and it's compatible with the Wii Balance Board and MotionPlus, but not required to play.
One of the best aspects of New U is the clean and easy to navigate menus. Right from the start you'll need to set up a profile, and the menus make things a snap. When you set up a profile (you can set up multiple ones later), the game will let you set certain goals. These goals include improving upper- and lower-body strength, back pain relief, belly flattening, and other types. The game will select exercises for the goals you set, and you can change goals at any time.
You'll also have to pick an instructor. Each one shows you how to do the exercises on-screen and talks you through each one. Even though they're probably not real, the three different coaches feel like official experts, and you can switch them out at any time. The neat thing about the graphics is it looks like an actual person is on screen doing the poses, not just some polygonal mannequin. And the backgrounds look photo-realistic, too. The sharp visuals help make doing the exercises easier as it's clearer on screen on how to hold the remote and whatnot. There are indicators on screen to show you how steady you are holding the Wii remote.
You can do a regular class or a quick class if you're pressed for time. You can also customize your own lessons and even partake in challenges that really test your skill. You can get certificates and trophies for nearly everything, so it always feels like you have accomplished something each time you play. Practice each exercise separately and brush up on core skills as well in the different menu selections
The only problems I had with New U was the lack of variety in some of the classes. And sometimes it seems the instructor moves too fast, but then, I'm not very quick, myself. Even so, New U is one of the better Wii fitness games out there. It may not stand on its own, but would make a good supplement to an existing exercise program.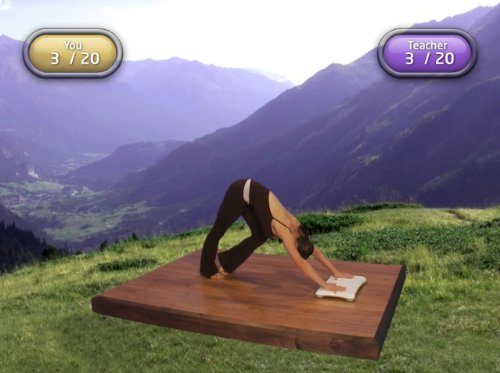 Kid Factor:
Kids may need help setting up a profile, but after that they can do fine on their own. Some may get bored with the exercises, but they may enjoy doing a Quick Class with you or an older player. New U Yoga and Pilates Workout is rated E for Everyone.