Posted on
December 26th, 2010
by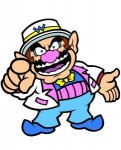 Welcome, one and all, to the Cary's Best Video Games of the Year Awards Show! With guest stars Sam & Max, Juri from Super SF4, Kirby, Ulala from Space Channel 5, plus Wario and Penny from WarioWare: D.I.Y. And I'm Cary, your host tonight!
Now, before we start, keep in mind that these are MY picks only. No polls or outside opinions were taken. Many games may be missing from this list that you would've liked to have seen. But I'm only one person and can play only so many games! This list also reflects my tastes in games, so some readers may think this list is a bit biased and/or weird. But hey, it's my blog so I can do what I want, right? Anyway, with that out of the way, let's get onto the games!
BEST CLASSIC UPDATE/GAME COMPILATION
I love classic retro games. Any game that is new but retro styled, a classic arcade collection, or classic game remakes belong in this category. And the winner is:
Pac-Man Championship Edition DX (360)
No really a big surprise from me, I suppose. It's amazing how a small change like ghost behavior can make a game seem totally different. Definitely worth the download points if you like Pac-Man!
Runners Up:
This is an interesting one. Not an old game at all, but built to imitate a 'lost' NES game. Capcom used it to promote Dark Void on the bigger consoles. What's funny is that it turns out the DSiWare game was better than the game it was trying to promote! It's amazing how close this game feels to a classic challenging (and frustrating) Capcom 2-D action platformer. And at only 500 Nintendo points, it's worth the download if you have a DSi.
Data East Arcade Classics (Wii)
It's a decent collection of Data East classics. Nice to have since they're out of business now. Would've liked to have seen more on the collection, but I'm happy it's got BurgerTime on it anyway!
I like the IDEA behind Mega Man 9 and 10: making a new game with 8-bit graphics and sensibilities. I still think the makers of these new games haven't grasped what made the old ones fun yet, though. I know Mega Man games are hard, but they shouldn't be THAT hard! Luckily, MM10 is a little better than 9 due to additions like the Easy Mode. Next time, Capcom, dare to be different and make a new 2-D Mega Man game with 16- or 32-bit graphics!
It's a heck of a lot cheaper than buying them separately on Game Room, and the controller overlays on the touch screen was a good idea.
BEST FIGHTING GAME
I know hardcore fighters hate this, but what I liked about Tatsunoko vs. Capcom was that it was easy for novices to get into as well. And as someone who sucks at fighting games, I can appreciate that. It was fun seeing silly Capcom characters like Roll, Mega Man Volnutt, and the Dead Rising guy. And even though I didn't know much about the Tatsunoko cast, it was fun to learn about them (like Doronjo). Only bad thing is they took out the mini-games from the Japanese version. I was looking forward to those! Oh well. I didn't give the award to Super Street Fighter 4 because it was just too darn hard. Even if new characters like Juri were really cool. Can't wait for Marvel vs. Capcom 3!
Runners Up:
BlazBlue: Calamity Trigger Portable (PSP)
Never played the original one last year, but after reviewing the PSP version, I can see why so many liked it. Even though I'm sure the PSP version isn't as good as the ones on the big consoles. My favorite characters were Taokaka and Boob…er, I mean Litchi. Who are your favorites?
BlazBue: Continuum Shift (360)
I did get to review the sequel, though, and it is certainly a good fighting game with lots of things to do for novices and advanced players. Although I still say it was pretty advanced for me.
Not the best playing fighter in the world, but being able to put yourself in the game using the DSi camera was pretty original. Brother Jeff and his friends had hours of fun with this. Originally it was free, but even at only 200 Nintendo points now, it's still worth the download.
BEST POINT AND CLICK ADVENTURE GAME
Sam & Max: Season 3 (PC, iPad, Mac, PS3)
Originally I was going to give the award to Miles Edgeworth's game, but after thinking about all the episodes in this adventure, and how sophisticated they ending up being and how memorable everything was, I changed my mind. Sam & Max's point and click adventures are ALWAYS good! Season 3 has improved graphics and new gameplay mechanics, like psychic toys that give Max special powers that help you solve puzzles. I'm looking forward to TellTale's next project, a Back to the Future game series!
Runner Up
Miles Edgeworth: Ace Attorney Investigations (DS)
The improved interface and more intuitive cases make this one of the best in the series since the very first Ace Attorney game. I hear there's already a Miles Edgeworth sequel and a Prof. Layton/Phoenix Wright crossover in Japan. And I can't wait for Ghost Trick, which is made by the same folks!
BEST RACING GAME
Sonic and Sega All Stars Racing (360)
There were a lot of racing games this year. I reviewed Split/Second. It was pretty good with a neat gimmick, but it didn't grab me enough personally. I never did get to play Blur, and ModNation Racers was neat, but I didn't get to spend a lot of time on it. So by default, the award goes to Sonic & Sega All Stars Racing. It's a pretty good Mario Kart clone with solid controls and fun online play. The 360 version has guest star racers Banjo & Kazooie as well as other Sega favorites of mine like Tails, Big the Cat, classics like Opa Opa and the Bonanza Bros, and Ulala from Space Channel 5. And any game with Ulala in it can't be ALL bad, right? Who were your favorite Sega racers in this game?
BEST RPG
Yeah, I guess some would say this isn't a traditional RPG, more of an action game with RPG elements. But you know, there are so many gray areas about that, so I decided to give this game the award anyway. I never got bored with it, the action was always great. Story didn't get too meandering and the music was some of the best in a game this year. I also liked Ys: The Oath in Felghana, but not as much as Seven.
Runners Up:
Pokemon HeartGold/SoulSilver (DS)
It's a remake of a game series that's been the same since the first one, but what I really liked about this one was the PokeWalker. I thought it was a good idea, and since I like to go outside and walk around anyway, it was a new fun way to level up and catch Pokemon. Plus, I have a strange fascination with virtual pet keychain games anyway.
Lunar: Silver Star Harmony (PSP)
Another remake of an old RPG. I just like old RPGs is all. I never played the original, but I know a good RPG when I play one, so I gave this one a good review.
Lufia: Curse of the Sinistrals (DS)
It's another action RPG. More of a re-imagining of Lufia 2 rather than a remake. If you can keep an open mind about that, it's still pretty fun.
I like the Rune Factory games more than the Harvest Moon ones because if you get bored of farming, you can just go off and fight monsters in dungeons!
WEIRDEST GAME
The Mama games themselves are pretty weird to begin with. But to make a game that comes with a baby doll that you put the Wii remote inside to play? Now that's extra weird!
Runner Up:
This original Wii game is beyond description. Think of it as a Japanese Fallout game. Just go read my review. And watch out for that guy with the chicken head.
BEST EDUCATIONAL GAME
Art Academy (DS)
While a lot of people can make very valid points on how Nintendo has gone too 'casual,' you have to admit, their causal stuff is pretty good. Art Academy does a pretty decent job of showing you basic art and painting skills. While it's not quite like painting on a canvas, it's still fun and interesting. And at only 20 bucks, it's not a bad deal at all. There is actually another educational game that is better than this, but it's getting a more prestigious award, so I'm leaving it out here.
Runner Up:
It may not seem like it, but I think this game is indirectly educational. Think about it. It teaches spelling, vocabulary, and adjective usage. And it's a pretty darn fun and creative game, too.
BEST PUZZLE GAME
Picross 3-D (DS)
They really did a good job bringing the classic Picross gameplay to 3-D. What's amazing is the vast number of puzzles on the cartridge. There are more than 120 on Easy Mode alone! And you can download even more! And if that's not enough, you can make your own puzzles and share them with friends! And it's a steal at only 20 bucks. Plus, it's made by HAL, creators of Kirby, so you know it's got to be good.
Runners Up
It's a simple color matching puzzler, but still fun. And I like the cute cartoon tank characters.
You can play this Bejeweled clone on your PC right on the Internet. Watch out, though, as it's pretty addictive!
It's just Diner Dash with Pac-Man, but they did include some Pac-Man gameplay elements to keep things different and challenging.
Mario vs. DK: Mini Land Mayhem (DS)
Nintendo does Lemmings! Still a fun DS puzzler and you can make your own levels, too.
BEST 3-D ADVENTURE
It's more of the same, but since the first one was so much fun, that's a good thing here, too. I really dug the orchestrated music, too. Definitely a must-have Wii game for Mario fans.
Runners Up:
3-D Dot Game Heroes (PS3)
One landmark of 2010 is I finally got a PS3. And 3-D Dot Game Heroes was the first game I got for it. It's a blatant Zelda clone, right down to the boomerang, arrows, and bombs. But it's still a lot of fun and there are lots of classic game references and jokes for fans of 8- and 16-bit RPGs. In the first hour alone they were making allusions to Final Fantasy, Dragon Quest, and even Mega Man 2! And you can create your own pixel character, too. I made Namco's Valkyrie.
LEGO Harry Potter Years 1 to 4 (360)
A friend of mine described the LEGO games best: "They're not very good games, but they are pretty fun games." I only read to the fourth book, so at least I kind of knew what was going on. I'm not that big of a Harry Potter fan, so I imagine this would be even better for them.
Epic Mickey (Wii)
I think people's expectations of this were set too high. It's a fun 3-D platformer with a few problems here and there. I liked the classic references, like the 2-D levels based on classic Mickey cartoons. Also, Mickeyjunk Mountain was made up of Mickey memorabilia and toys like lunch boxes and plush, and one pile even had NES Mickey Mousecapade and SNES Magical Quest cartridges! I also liked the TRON disc battle with Pete-tronic!
PokePark Wii: Pikachu's Adventure (Wii)
Remember the kiddy 3-D Pokemon games like Hey You, Pikachu and Pokemon Channel. Well, this one is like those. Just a bunch of mini-games linked together by exploring a Pokemon-filled 3-D world. Definitely geared towards younger gamers. And the young at heart, like myself.
You probably noticed that I didn't put Metroid: Other M on this list. I wanted to make a "Most Disappointing Game' category for it, but I didn't want people to think I thought it was a bad game. Because it wasn't bad, just disappointing. It wasn't up to the standards of the Prime games. But still not good enough to be put on this list. Team Ninja, you suck.
BEST 2-D ADVENTURE
Not a surprise, since I like Kirby so much. Epic Yarn had so much style with its graphics and gameplay that intertwined with it. Plus, even though it was easy, there were plenty of challenges for advanced players. And two friends could play at the same time. And the music was great, too.
Runners Up:
Patchwork Heroes (PSP)
I downloaded this when Sony was having one of its PSN sales. It's kind of a cross between Qiz and Dig Dug 2. Original art style, too. Good if you can find it on sale.
Comic Jumper: The Adventures of Captain Smiley (Xbox LIVE)
It's a lot like Earthworm Jim, meaning it's more fun to watch than to play. But I still had fun with it. I think it's neat that Twisted Pixel, makers of this game, is in Austin, TX. I used to live there when I was in college. They also made The Maw, another favorite of mine. Their next game should be interesting: Ms. 'Splosion Man.
Shantae: Risky's Revenge (DSiWare)
We finally got a sequel to the Game Boy Color cult classic. I think I like the first one a little better, but the sequel still has amazing 2-D graphics and gameplay.
Donkey Kong Country Returns (Wii)
Retro Studios (also in Austin, TX and makers of the Metroid Prime games) did Donkey Kong Country justice with this new game. Only problem I have with it is it's way too hard. I mean, who here really likes those mine cart and rocket barrel levels. Seriously.
BEST IMPORT GAME
Taiko no Tatsujin DS: Dororon! Youkai Daikessen!!
Well this one wins by default, since it's the only game I imported this year. But hey, I love the Taiko drum games. And it's pretty import friendly, too. Heck, I even figured out the RPG mode!
And now, the Best Game of the Year is…(Taiko drum roll, please…):
BEST VIDEO GAME OF 2010
I think this is the first time a DS game got the Game of the Year Award! There are several reasons why I liked this game so much. One, I just love WarioWare games period. Two, you can make your own games in this one! Three, the graphics making program is basically the spiritual successor to Mario Paint, one of my favorite SNES games. Four, the instructions that teach you how to make games is very easy to understand and informative. You could even consider D.I.Y. an educational game, since it teaches the basics of game design and programming. Five, you can share games with friends through WiFi. And of course, having one of my games featured in one of Nintendo's contests helps, too! Speaking of which, if you have WarioWare D.I.Y. and I'm not on your friend list, let's fix that right now! Here's my friend code:
Name: Cary
Friend Code: 4082 7946 9306
Runners Up:
From start to finish, I was enthralled with this game. Basically a fast-action Secret of Mana, really. And the music was fantastic. Just go do a search on YouTube for Ys Seven music and you'll see what I mean. I hope that those of you with PSPs will go out and get this now that you know how much I liked it.
3rd Place: Kirby's Epic Yarn (Wii)
Another fine game. The graphics and gameplay never got old. And like Ys Seven, it has some awesome music as well (go look up Epic Yarn music while you're on YouTube, too).
CONCLUSIONS
Anyway, those are my picks of Best Video Games of the Year, and I highly recommend all of them. In the comments section, let me know what you think of my picks, and you can even tell me I'm off my rocker. And let me know your favorite games of the year so far. Also, if this really were a video game awards show on TV, would you watch it?