Posted on
December 13th, 2011
by
Disney Universe is a futuristic virtual world where kids can dress up as their favorite Disney characters and explore famous Disney lands. But when an evil computer takes over the virtual space and kidnaps some of the kids, it's up to you and up to three friends to save the day! (360 version reviewed here)
The basic gameplay of Disney Universe is like a combination of classic arcade side scrolling beat 'em ups like Teenage Mutant Ninja Turtles, mixed with the family-friendly puzzle solving and multiplayer fun of games like LEGO Star Wars. You'll explore worlds based on various Disney movies, such as live action favorites like Pirates of the Caribbean and Tim Burton's Alice in Wonderland, cartoon classics like The Lion King and Aladdin, and Pixar CG masterpieces such as Monster's Inc. and Wall-E. In each world you'll beat up waves of robots and solve simple switch puzzles. You might have to fire cannons and gather mermaid tears in the Pirates of the Caribbean levels, or solve door puzzles and collect screams in the Monsters Inc. worlds.
There are tons of Disney characters you can dress as, too. Each one uses a special weapon to attack, but they aren't very different from one another. You can choose to dress as characters from each of the world stages in the game, or other Disney staples like Mickey, Donald, or even TRON (Yay, TRON's my favorite). As you complete levels, you'll rescue kids wearing new Disney costumes, and then you can unlock them by buying them with mouse-eared coins you collect in the stages (similar to collecting studs in the LEGO games). Plus, you can buy new outfits online, too.
Controls are super simple. One button attacks, one is for jumping, and the other lets you pick up and carry things (or other players). The game does a good job with the themes of each world, both visually and audibly. I especially liked the 8-bit chiptuned version of the Pirates of the Caribbean theme they play in the arcade challenges in that world. The game may not be very innovative, but Disney fans of all ages should enjoy this anyway.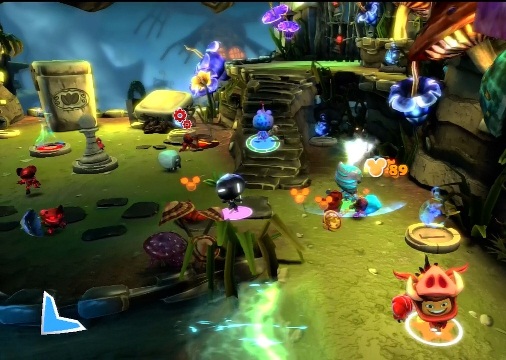 Kid Factor:
Disney Universe is rated E-10 with ESRB descriptors of Cartoon Violence and Crude Humor. While you do smack around enemies, they're just robots who disappear when defeated. When you run out of energy, you'll just fall over and respawn right where you left off. So gamers of all skill levels can play and not get too frustrated. The crude humor comes from pigs you can ride on who have fart attacks. Honestly I'd let any kid play this. Reading skill is helpful for the text objectives and instructions, but arrows and picture cues help guide the way, too. If you have a big family with lots of kids, Disney Universe is great since four can play locally at the same time. Adult supervision is recommended if your kids want to buy new costumes online, though.
In the comments section, tell me your favorite Disney characters! Mine are Chip N Dale and Scrooge McDuck (I don't think they're in the game, though).