Posted on
July 7th, 2012
by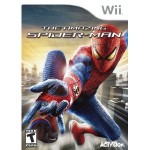 After Cary's excellent, positive review, I thought I'd chime in with a few additional comments on the game as well as bring a perspective of the Wii version (reviewed here).  While the game manages to be pretty good for a movie-tie in, it didn't rise to the level of a great, must-play game.  It provides a nice playground with which to take on various bad guys and pretend to be Spider-Man, but some control issues (at least on the Wii) prevent it from becoming a must-buy.  If you're looking for a Spider-Man game, you won't be disappointed, but it doesn't have as much to offer non-fans.
As Cary mentioned, this game is best for slightly older gamers.  There is a bit of death and destruction, even from the start, but it isn't any worse than the movie.  What makes it a game for an older (think tween/teen) audience is the entire Spider-Man style of play.  Swinging on webs, crawling on walls, etc… happen in three dimensions which requires quite a variation of camera angles.  This takes a bit of getting used to.  One new aspect I want to call out is the Web Rush mode that Cary briefly mentioned.  This will make or break the game for most people.  Press a button and time slows down, allowing you to scan around for a yellow spider-symbol which indicates a possible next move.  Target a symbol and let go of the button and you zoom to that location/action.  This creates a double-edged sword of very nifty cinematic action sequences, but can also give players a feeling of confined play style.  Boss battles in particular tend to rely heavily on Web Rush actions rather than a more strategic set of choices for a player.  As a brief aside, I have to say that the tutorial for Web Rush completely dropped the ball as there is nearly nothing in-game to help a player figure out the web rush mode except through trial and error.  This can occur a few more times in the game, where the game is moving right along and then all of a sudden the game can come to a screeching halt in a random room until the next puzzle/trick/move is found to push the story forward again.
Even the 3DS version of the game is loosely based on its console-based bigger brothers.  It does an OK job, although there isn't as much free-form exploration available.  The 3D aspects are passable but due to the tricky nature of camera angles, etc… will probably be turned off after a half hour or less.  However, anyone with access to a console will probably enjoy those versions much more than the slightly scaled-down 3DS title.  The DS title is its own game (with a different developer) and stays pretty much 2D.  This makes it much more appropriate for the younger set (and makes its E10+ rating a better fit.)
Kid Factor: Controls are a bit much for younger folks, but teens/tweens should be fine.  If you're old enough to see the movie, you shouldn't have any issues with the game.  However, note that the game takes place entirely after the movie so would serve as somewhat of a spoiler to someone who hasn't seen the movie yet.  The DS version of the game is clearly the least edgy and should be OK for tweens or even a bit younger.