Posted on
August 14th, 2012
by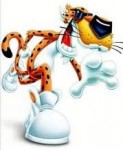 We all know Chester Cheetah as the mascot of Cheetos snacks.  But did you know that he was created by one of the same folks who came up with the Pink Panther cartoon?  Also, Chester Cheetah starred in TWO 16-bit 2-D platformer video games back in the day.  I never played them myself, but I hear they weren't very good.  But now, Chester Cheetah is getting back into video games.  Click here to read a snipped of a press release announcing that you'll be able to download music tracks for UbiSoft's popular Just Dance music games.  And when Just Dance 4 comes out later this year, it looks like Chester might be in the game, too!  Ha!  Isn't that 'cheesy?'
PLANO, Texas – Cheetos, the most playful snack brand in the world and a leading brand from PepsiCo's Frito-Lay division, is inviting fans to lighten up and hit the dance floor this summer. As part of an exclusive two-part promotion with Ubisoft, the Cheetos brand is offering exclusive music tracks available for the recently released Just Dance Greatest Hits and soon-to-be released Just Dance 4 games.
The first part of the promotion allows consumers to unlock two music tracks by using unique nine-digit alpha-numeric codes found on a variety of specially marked Cheetos snacks, available for purchase at Kroger and Walmart stores nationwide, while supplies last. The two exclusive tracks – Bollywood's "Katti Kalandal" and Reggaeton's "Baby Girl" – will be available from now until September 30, 2012.
"Busy, hectic schedules and unending task lists seem to take most people away from the chance to lighten up and have fun," said Ram Krishnan, vice president of marketing for Frito-Lay North America. "The Cheetos brand is encouraging consumers to take a break from their daily routines – and what better way than by stepping onto the dance floor in the comfort of their homes."
Released in June, Just Dance Greatest Hits is the latest edition to the Just Dance games, the second-largest console video game for 2011. The game allows dance fans to put their latest moves to the test by reproducing hundreds of professionally choreographed dances through its game console. Just Dance Greatest Hits features more than 30 of the hottest tracks from Just Dance and Just Dance 2, ranging from chart-topping Billboard hits to classic dance party tracks. There are also three bonus tracks in the game from Just Dance 3. The game is available for play on the Microsoft Kinect for Xbox 360 video game and entertainment system and Wii system from Nintendo. It is rated E-10+ by the Entertainment Software Rating Board (ESRB).
Later this fall, the Cheetos brand will reveal additional details around the exciting second phase of its Ubisoft Just Dance partnership, which allows fans the chance to dance alongside its playfully silly spokescat Chester Cheetah in the much-anticipated Just Dance 4 game. Announced during the E3 Entertainment Expo in Los Angeles last month, and available in stores beginning in October 2012, Just Dance 4 offers dance fans more than 40 new tracks, along with updated game features.