Posted on
August 24th, 2012
by
KooZac is a falling block puzzle game that you can now play on iPad, iPhone, and iPod Touch (iPad version reviewed here). Guide and drop falling blocks with numbers on them, and make the blocks disappear for points. To clear out blocks, they must add up to a particular number shown on the top left side of the screen. For instance, if you need to make a 5, just line up 3 and 2 vertically. You can even line up multiple blocks for more points, so if you need to add 6, line up 1, 3, and 2 vertically. Cleared blocks of the same color will net you bonus points, too.
KooZac has three main gameplay modes. In Puzzle Mode, each stage has grey blocks for you to clear out. Finish quickly to earn stars, and those stars will unlock dozens of new levels. In Endless Mode, you'll continuously match sums and the blocks keep falling faster and faster until they reach the top of the screen and end the game. Try to last as long as you can. Finally is Blitz Mode, where you have one minute to get as high a score as you can, and you can even post your scores on Facebook. As you play the game, you'll earn coins which you can use to buy Boosts. These power-ups can help you by doubling your score or making the game easier temporarily.
The only main problem I had with the game (besides the reminder that I stink at math), is the play control. You use your finger to slide the blocks left and right, and flick down to make the blocks fall faster. But sometimes I would inadvertently flick blocks downward without meaning to. Also, sometimes you're required to add numbers to make something like a 3, and the next block you'll get may be a 4, which seems kind of dumb since you can't do anything with that. But if you like Tetris-like games and enjoy math and Sudoku challenges, then you'll love this surprisingly high quality puzzler anyway.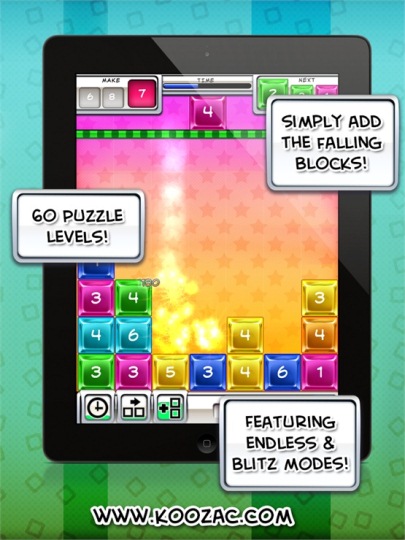 Kid Factor:
Reading skill is helpful for navigating menus and instructions, but not necessary since the game is easy to figure out just by playing. In fact, I found the text instructions just a tiny bit confusing at first, but was able to get right into it after playing for a few minutes. However, number recognition and strong early elementary math skills, especially addition, are a must, as you'll be quickly adding numbers on the fly to make blocks disappear. In fact, KooZac can be considered educational and a great way for elementary aged kids to brush up on their math skills before school starts full swing soon. Best of all, it's only 99 cents to download at the App store, and it's a very high quality puzzler for such a low price!