Posted on
September 8th, 2012
by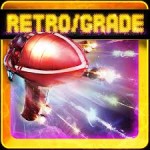 When you start playing Retro/Grade, at first it looks like a 2-D side-scrolling shooter. But you begin at the final boss and quickly destroy it, then fly off as the credits roll. But then something strange happens. A rift in the space-time continuum breaks, and the credits start rolling backwards! Now you must play this shooter game…in reverse! Position your spaceship so that you line up with your shots and 'catch' them with the fire button as they retract back into your ship, as well as avoid enemy bullets coming from behind as they sink back into the opponents' vessels. If that's not creative enough, Retro/Grade is actually a cleverly disguised music/rhythm game, downloadable on the PSN store for PS3.
Yup, that's right; this is actually a music/rhythm game. Your shots go back into your ship in time with the music. The songs in the game are catchy electronic techno tunes, and would be a great soundtrack on their own. You can even use a guitar peripheral to play, but a regular controller works just fine as well. While it may seem overwhelming at first that you must avoid reverse enemy fire, if you concentrate on feeding back your own shots, you'll steer clear of the other obstacles just fine. The graphics have a neon look to them, and one time while I was playing, a family member passed by and said, "That looks like the 80's." Which is a pretty accurate description of how it all looks and sounds.
There are two main gameplay modes. Campaign is the main story mode with ten shooter stages in reverse. While it can be completed in a relatively short time, there are five different difficulty settings to keep you challenged. And speaking of challenge, there is also a Challenge Mode. Here you must complete stages with new rules and objectives to keep you on your toes. There are more than 100 of these challenges in all. By completing certain ones, you'll unlock goodies like music, artwork, and new ships to pilot. These new spaceships are based off of other indie games like Go Home Dinosaurs (after seeing that at PAX I really want to play it), Super Meat Boy, Octodad, and even Minecraft!
Really the only problem I had with Retro/Grade is that for the price, it's a bit repetitive. But most games usually are. Otherwise this is a fantastic and creative idea for a rhythm title. If you love old school shooters and music games, you'll definitely want to check out Retro/Grade.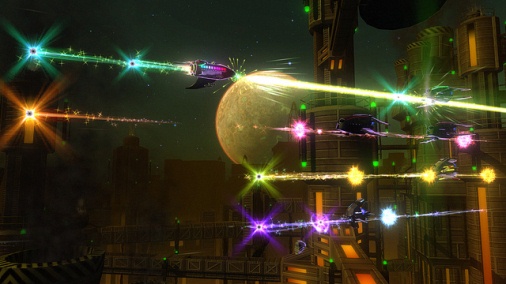 Kid Factor:
Retro/Grade is rated E for Everyone with an ESRB descriptor of Mild Fantasy Violence. All you see are exploding spaceships for violence, and most of the time they're exploding in reverse! Reading skill is helpful for the menus and text instructions. But because there are so many difficulty settings, including some very easy ones, even the youngest gamers can play with a little help and not get too frustrated. Plenty of challenges for older gamers as well. If only this game had a two player mode.