Posted on
September 13th, 2012
by
Plants vs. Zombies is one of PopCap Games' most recognized and popular titles. Grow plants in your backyard to battle the waves of zombies coming to get you! It's one of the few unique takes on the tower defense genre, and it is simple enough for casual gamers to get into, but deep enough to challenge anyone. Plus it has all those memorable and silly plant and zombie characters. Now, PopCap Games and Zen Studios have teamed up to bring you Plants vs. Zombies Pinball, available on Pinball FX2 on Xbox 360 and Zen Pinball 2 on PS3. It's one of their best tables yet! (360 version reviewed here)
Downloading Pinball FX2 and Zen Pinball 2 is free; you just purchase each table separately to go with it. Plants vs. Zombies is their newest, and it retains all the fun and charm of the original game. Your pinball looks like a little green seed, and you must collect sun icons to power up your plants just like in the game. Sometimes zombies will come out, hit them with the pinball to defeat them and collect dropped coins to spend at the shop to buy more seed packets to help you in missions. There are lots of other rules and tricks for the expert pinball wizard to uncover, too.
Best of all, it's really easy to get a high score in this game, activate multiball (one of the most fun parts of pinball), and keep your ball in play for a good long while. Fans of both Plants vs. Zombies and Zen Pinball tables will definitely want to download this. Wouldn't it be cool to see a real life Plants vs. Zombies pinball table in a real arcade? I hope Zen teams up with TellTale next to make Sam & Max pinball. I think that would be neat if they did that.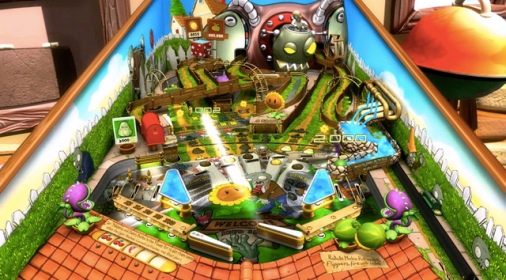 Kid Factor:
All Zen Studios' pinball tables are rated E for Everyone with an ESRB descriptor of Comic Mischief. MAYBE some little itty bitty kids might get a little scared of the silly zombie sounds, but that's stretching it a bit. It's pinball, it's safe and family friendly, and no reading skill is required to play.