Posted on
September 20th, 2012
by
With the release of Kirby's Dream Collection out of the way, I feel that I've probably played the last great Wii game. Oh sure, they'll be a few good stragglers here and there, like Epic Mickey 2, but I'll probably end up playing that one on the 360 or PS3. So when a new console comes out (like the Wii U), and I know that there aren't any more significant releases on the old console (like the Wii), I like to make a blog featuring and honoring all my favorite games on the previous console. There were so many fun games on the Wii, though, that I decided to make this blog a multipart feature consisting of several short blogs, one every couple of days or so.
Before I get started, I have to say that the Wii is NOT one of my favorite game consoles. In fact, in this generation, I liked the 360 and PS3 a lot more. But I'm still glad I got the Wii because it still had plenty of fun games. And as far as Nintendo consoles go, the Wii is far from the top. In fact, I liked the GameCube much more than the Wii. Considering the Wii can play GameCube games, that is a significant statement!
The Wii kind of reminds me of the N64. Both had great games, but not enough to keep me faithful to just one game console. The lack of games on the N64 caused me to buy a PSOne, which was one of the best gaming purchases I ever made. I was in college and really couldn't afford one, but back then I was actually getting paid for my game reviews, and after getting a PSOne I was reviewing games for it left and right, so that was a smart purchase. Similarly, the lack of good games, or glut of crappy ones rather, caused me to eventually buy a 360 and later a PS3 after I had my Wii.
Of course, even when I first played the Wii at E3 2006, I wasn't convinced that it was the end-all, beat-all of game consoles. Sure the motion controls were neat, but I didn't think it would replace the precision and accuracy of using a regular game controller. And it didn't. Plus, to this day I still think the name "Wii" sounds stupid. Remember when they first announced that name and everyone on the Internet went into an uproar?
This is just a guess, and I could be wrong, but I think the Wii U will end up being a lot like the Wii. It'll have plenty of good games for it, I'm sure, but I don't think the new controller will completely change the way we play games. I'm sure there will still be a glut of bad mini-game collections, sports games, ports, and whatever else becomes popular on the system. But who knows? I might be totally wrong. The only way to know is to try the Wii U and find out for myself! And luckily, I'll get to do that on day one because I got my Wii U (the deluxe edition that comes with Nintendo Land), reserved already. So you know I'll be talking about it after it's released. And I'm glad I reserved it when I did, too, because I hear now that some stores aren't even taking reservations anymore!
But anyway, that's enough negative talk about the Wii from me! This blog series is about honoring the Wii, after all. I still really enjoyed its six-year run, and played a ton of games for it. So many that I had to split this blog into several parts. Here's how it'll go down:
Part 1: Intro and Fighters
Part 2: Game Collections
Part 3: Virtual Console and WiiWare
Part 4: Sports and Fitness
Part 5: Weird and Wacky
Part 6: 3-D Adventures
Part 7: 2-D Adventures
I'll post a new part every two or three days or whatnot, so it should take more than a week to get through them all.
Fighters
And we'll start out this blog series fighting! Actually, since I spent so much time on the intro, I decided to do the shortest game category first. There were a couple of game genres that the Wii wasn't really known for. Like Fighters and RPGs. In fact, I didn't even make an RPG category! (XenoBlade and Last Story just didn't grab my attention) But there were a couple of exclusive Wii fighters that I really enjoyed, so we'll list those first.
Tatsunoko vs. Capcom
I think most people were surprised this was actually released in the US. Aside from the Battle of the Planets characters, I really didn't know much about the cast of Tatsunoko cartoon stars. But it was sure fun to learn a little about them! And it was neat to fight as characters from the Capcom side as well, since I knew more about those. Since I'm not good at fighting games, I appreciated the option for simpler controls. Capcom proved that you could make good fighters for the Wii. Too bad they didn't follow up with that. Also a shame that we didn't get all the mini-games like Japan did.
Super Smash Bros. Brawl
Usually when I'm done with playing a game, I'll put it away in storage so it's not taking up too much space around the house. But ever since I got Brawl, it hasn't gone into storage because we still take it off the shelf and play it from time to time. I've always loved the Smash Bros. games thanks to the simpler controls and innovative gameplay ideas. Plus all the rampant Nintendo fandom. I like to compare the Smash Bros. games to the first three Mega Man titles. The first was fun, but pretty simplistic. The second one vastly improved on every aspect of the first. And the third took those improvements and refined them. Sure, the online portions of Brawl sucked, but this is one of those games that is more fun to play with people in the same room anyway. If I had to pick a number one favorite Wii game, Super Smash Bros. Brawl would probably be it. I wish they would make a Brawl soundtrack, as the remixed Nintendo tunes were fantastic. It would be a lot of CDs, though! My favorite Brawl characters are Kirby (of course), and Princess Zelda. Who are your favorites?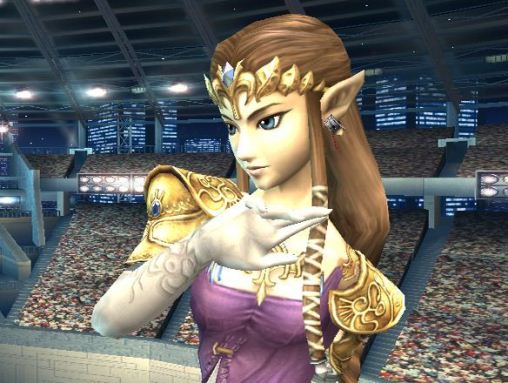 And that's all for now! What are your favorite Wii fighters? In Part 2 we'll look at the best game collections on Wii. I'm playing one right now! Can you guess what it is? –Cary