Posted on
October 22nd, 2012
by
It's getting to be that time of year again. Gotta watch out for all that Halloween candy, Thanksgiving pumpkin pie, and Christmas cookies that can plump up your belly! But you can help turn the tides in the battle of the bulge with Zumba Fitness Core for Wii and Xbox 360 (Wii version reviewed here). It's the first fitness game to target a specific area of your body: the core area and abs.
Zumba is a popular fitness program that incorporates dance and Latin music to keep you moving with a cardio workout. It's been extremely successful, with best-selling DVDs, clothes, live classes, and two other Zumba games on the Wii! (Read the reviews here and here)  The game comes with a belt that you strap to your waist, and then put the Wii remote in the pocket on the right side of your hip on the belt. The Wii remote will measure your movements as you dance, so for the best results, make sure the Wii remote is on the side of your right hip. You can get more Zumba Wii belts online or packaged with the other Zumba games also (which are good games to get as well). It's recommended that you do that because Zumba Fitness Core lets up to four players dance at the same time.
To play, simply follow along with the movements of the Zumba fitness instructors on screen (this game features real life celebrity instructors, by the way). Watch the screen for picture cues on what moves come next. The better you move to the music, the higher rating you'll get, from Nice, Hot, to Zumba. Get enough high ratings and you'll go into euphoria mode and the background scenery will change, letting you know how well you are doing. Keep it up and you'll earn stars. Get five stars on certain songs to unlock cool behind the scenes videos. These videos are neat because it shows how they made the movements more lifelike in the game by putting rotoscope sensors on the celebrity instructors while they danced. Some videos also go into the instructors' backgrounds and inspirations. I actually prefer how you unlocked videos in the previous game with cumulative stars, because earning five stars on some of the songs in this game can be pretty tough!
You can dance to s single song or try short, medium, or long classes. Or create a custom class (like making a playlist). Review the different dance moves in the tutorials or track your progress. After setting up a profile, the game keeps track of various statistics like how long you've played and how many calories you've burned. You can also view awards and videos you've unlocked, as well as set personal goals for yourself for the game can keep track of.
The dances in this game have a lot of lower body movements, so if you have knee problems, you may want to be careful when playing this. Honestly, I really couldn't tell if this game was targeting core body and abdominal muscles differently from past Zumba games, but then, I'm not an expert on what exercises work what parts of your body. You're really getting a total body cardio workout, so that's OK regardless. And with 40 songs from all types of music genres, the game is still a great way for families to keep moving and get fit together.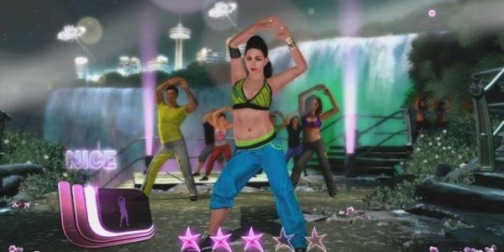 Kid Factor:
Zumba Fitness Core is rated E-10 with ESRB descriptors of Mild Lyrics and Mild Suggestive Themes. A couple of the songs have mild cursing in the lyrics, but it's nothing worse than what you hear on the radio. Some parents may be uncomfortable with some of the hip gyrations and revealing tops of some of the instructors, but it's really nothing worse than the countless Zumba infomercials you see on TV. Reading skill is helpful for getting around some of the game menus.
This game could certainly be considered educational because not only does it teach real dance steps, but also introduces kids to different types of music and dances. The 40-plus song list not only features Latin music like Salsa and Mambo, but other genres ranging from disco, hip hop, Russian folk dance, even ballet! The unlockable videos also give insight to how the game was made, too. In-game fitnes tips, too!  Best of all, the game doesn't really penalize you for not getting the dance steps exactly right, so just as long as you keep moving, you'll do OK. So even young kids (and klutzes like myself), can play just fine. Plus, kids just love to dance.