Posted on
November 13th, 2012
by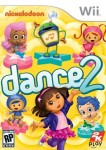 Dance games are super popular, and now your young preschoolers have another dance game of their very own with Nickelodeon Dance 2 on Wii and Xbox 360 Kinect (Wii version reviewed here). This sequel features new songs from Nick Jr. shows like Dora the Explorer, Bubble Guppies, The Fresh Beat Band, Backyardigans, Team Umizoomi, and more! And your child's Nick Jr. friends from all those shows are invited to dance at the party, too! Even Swiper the Fox! (Yay, Swiper's the best).
Choose from more than 30 songs from Nick Jr. shows (and even some Christmas songs like Here Comes Santa Claus). The songs are categorized into four levels of intensity. There is even a workout mode with dances that have more rigorous moves. The game shows pictures on the bottom screen to tell you what dance moves you need to do, but it's actually easier just to follow the Nick Jr. friends on screen. A new mode is Freeze Dance, where if you see a dance move scroll by with a snowflake on it, you'll have to stop moving for a few seconds. Dancing in all modes is easy, just hold the Wii remote and move like the characters on screen do.
By dancing well, you'll earn stars, up to three for each song. When you earn enough stars, you'll unlock more songs and other goodies. Get lots of stars and you'll even unlock Dora's rock n roll party dress! But don't worry, since this game is designed for very young kids, getting stars is super easy and your child should be able to get at least two or three stars per song without too much trouble. There are also in-game achievements to get as well.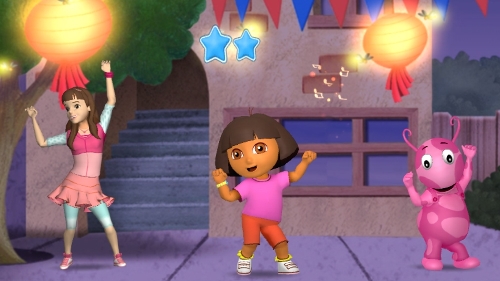 Kid Factor:
If you have young kids who love watching Nick Jr., they'll enjoy this game, too. No reading skill is needed as everything has instructions in spoken voice from the cast. Including what dance moves to do during songs. If your child can read, they'll be able to follow along with the lyrics to each song on the bottom screen if they want to sing along as well. Nickelodeon Dance 2 is rated E for Everyone.