Posted on
November 18th, 2012
by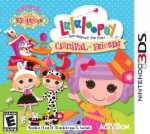 Lalaloopsy is a line of popular button-eyed, yarn-haired dolls made to look like they were sewn from fabric. Now your little girl can join the Lalaloopsy friends on an adventure on the 3DS and DS (3DS version reviewed here). Peanut Big Top has just opened a carnival and invited all her friends, and it's up to your child to help find them all!
Lalaloopsy: Carnival of Friends is a simple 2-D platformer. Players can switch between four friends, each with their own special skill. Tap the touch screen to switch characters. The doll dressed as a Dalmatian can make a ladder to climb. The magician doll can make a bridge of cards for you to cross. The mine doll can pop balloons blocking the way. And the one dressed in pink can bounce on pillows to jump to higher places.
Scattered about each short level (16 in all) are buttons. Collect a bunch to unlock photos. There are ten hidden buttons in each level. To move on to the next stage, you'll need to find five items that your friend asks for to help out with the carnival. Sometimes even a friend can be hiding as well. Find friends to unlock their bios in the Extras menu. Audio and graphics are made to look like everything was made of fabric, similar to Kirby's Epic Yarn. If you can beat all the levels, you'll unlock a surprise: a new friend to play as!
Kid Factor:
There is no way to lose or die, so your child won't get frustrated or discouraged by playing. Reading skill could be helpful for navigating the menus, but not totally necessary as they give you some instructions through spoken voice in the levels. However, they don't tell you what buttons to push, or that you can press down to ride ferris wheels, so it can take some fiddling at first to figure things out. But it's not too hard. One button activates that doll's skill, while the other one is for playing with that doll's pet (which serves no purpose whatsoever). Finding all the items is usually pretty easy. Even though the game is short, your child will want to play through it again with the unlockable character to find all the hidden secrets. Lalaloopsy: Carnival of Friends is rated E for Everyone.