Posted on
December 16th, 2012
by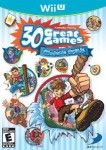 Up to four of your friends and family can now enjoy 30 mini-games on the Wii U with Family Party: 30 Great Games Obstacle Arcade. But are the games REALLY that great? Read on to find out.
First, you must pick a kid character, boy or girl. Then you can compete in two different modes. In Challenge Mode, you'll play a selection of mini-games in a row, afterwards unlocking new games, characters, costumes and areas. The other is Freeplay Mode, where you make a playlist of your favorite unlocked mini-games. You can also view your high scores and records for each played game.
The mini-games are fairly similar to the Mario Party variety. Most don't even use the Wii U controller at all, just Wii remotes and nunchucks. Be careful, though, because if you begin a mini-game that requires a nunchuck, it won't let you start until everyone has one plugged in, and it won't let you back out. So if you don't have enough and that happens, you'll have to reset the software. So just make sure that everyone has nunchucks before you start playing, because the game won't tell you what you need beforehand. That's actually one of the big problems with the title right there.
Some games do use the Wii U touchscreen, though, in some 3 on 1 challenges. For instance, you may have to tilt the Wii U controller to steer a horse or balance across a wobbly bridge while the other players point their Wii remotes at the screen to hinder the other player's progress. Wii remote games are pretty standard stuff that you've seen in other Wii party games before.
Unfortunately, while there are a bunch of games, they're really not very fun. Plus, while you can view instructions and tutorials on how to play each game, sometimes they still aren't very clear. Wading through menus is also cumbersome, and sometimes it looks like you can make selections on the Wii U gamepad but you really can't. It also takes forever to unlock all the games, and you have a relatively limited selection at the start. And that teddy bear game announcer is really annoying (and a little creepy, too). Even though it has less games, Nintendo Land is still your best Wii U bet. But if you just can't get enough, you might have fun with this one anyway.
Kid Factor:
Family Party: 30 Great Games Obstacle Arcade is rated E for Everyone with an ESRB descriptor of Mild Cartoon Violence. Characters can get hit with silly things like barrels and such, but they just stagger with stars for a bit. Reading skill is needed for the text, but there are also picture cues to show you what to do every now and then. Parents may need to help with menus and making sure they have enough remotes and nunchucks before playing.