Posted on
December 23rd, 2012
by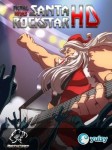 Santa Claus is coming to your town, and he'll help you party down! St. Nick's had a bit of a makeover and now he's a buff rock god. Help Rockstar Santa and his reindeer drummer travel to various areas on their sleigh, rocking out to heavy metal remixes of Christmas tunes in this Guitar Hero clone for iOS devices (iPad version reviewed here).
The gameplay is so close to Guitar Hero, it's no wonder Activision doesn't sue. Colored bars scroll down the screen, and you must tap the corresponding colored buttons on the bottom of the screen when the bars pass in time with the beat. When the notes turn white, hit them all to fill up a meter. When it's full, you can shake the iPad to go into a 'fever' mode to temporarily get more points. There are multiple difficulty selections for players of all skill levels, and rock remixes of familiar Christmas tunes like Jingle Bells, We Wish You a Merry Christmas, and many more.
As you play, you'll earn coins that you can spend on stuff in the shop. New speakers and guitars can give you a score boost and other advantages when equipped. You can also buy new areas and different guitarists besides Santa, including a scary looking reindeer, disco gingerbread man, and a Christmas…shark?! Only problem is purchasing these items is very expensive, and you'll be playing long after Christmas to unlock everything. But that's the nature of games in the iPad world, where they want you to purchase more coins with real money to unlock everything. Some may say that Santa Rockstar is a shameless clone, but I think it's a funny way to enjoy the Christmas season.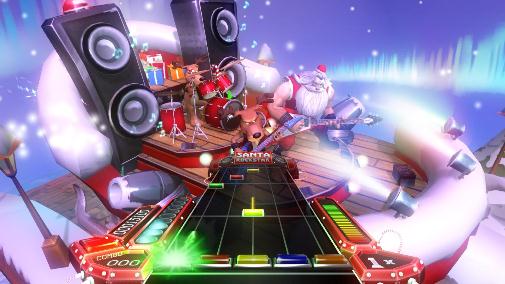 Kid Factor:
Santa Rockstar isn't rated by the ESRB as far as I can tell, but I think it would be safe for most any kid. Some young ones might get scared of Santa's new look or his creepy reindeer unlockable, but that's about it. I think most everyone would get a kick out of this silly little music game.