Posted on
December 26th, 2012
by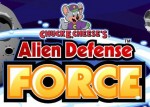 When I was a little kid, I used to love going to Chuck E Cheese's. Was it because of the creepy robotic band on stage? Heck, no! Was it because of the sub-par pizza? Absolutely not! No, I loved all the arcade games! Did you know that Chuck E. Cheese was started by the same guy who founded Atari, to make arcades more accessible to families? Now UFO is trying to recreate the arcade fun of Chuck E. Cheese with Chuck E. Cheese's Alien Defense Force, a downloadable DSiWare title for play on the DSi and 3DS.
Aliens have snatched all of Earth's pizza, so it's up to Chuck E. Cheese and his friend Mr. Munch to stop them! Armed with their trusty soaker pistols and water balloons, they'll splash aliens in shooting gallery style challenges. To start, tap on an arcade machine, and more will unlock as you complete objectives. In each game, you'll have to tap on the screen to hit a certain number of targets in the time limit. When you run out of water, tap repeatedly on the gun or balloon icon on the corner of the screen to refill your supply. Be on the lookout for targets that'll net you bonus points, and don't hit the targets with your character's face on them! The game is rather difficult and there is a slight delay between screen taps and water squirts, so it can get pretty frustrating. Plus the title is a bit too simplistic to feel like a full game.
Kid Factor:
You squirt water guns at cutout targets, so no violence here. Younger players may get frustrated by the high difficulty, though. Chuck E. Cheese's Alien Defense Force is rated E for Everyone.