Posted on
January 10th, 2013
by

If you like puzzlers and have an iPad or other iOS device, you're in for a real treat. Nanolyte is a color-matching puzzle game that's free on the App store. Well, at least it was free when I downloaded it. I know things like that can change at a drop of the hat. But you should check it out anyway. The playfield is full of multicolored hexagons, and you must rotate them to match three in a row. It's similar to the Xbox LIVE puzzle game Hexic (which is also free).
There are three main gameplay modes in Nanolyte. In Endless Lyte, you'll match colors continuously with no time limit to worry about. In Stellar Trip, complete stages by matching colors to fill up a meter before time runs out. Matched colors will turn into grey shapes that can't be cleared, but sometimes they'll have numbers on them. Match the grey numbered shapes to change other grey blocks to colored ones so you can make more matches. Only problem is it's hard to tell what you have to do to make numbered grey blocks, or if it's just random. The final mode is Nano Rush. It's similar to the endless mode, except you have a time limit to reach a high score.
The only problems with Nanolyte is that the knobs you tap to rotate shapes are a bit on the small side, so sometimes it's hard to move things around. And as said earlier, it's hard to tell what creates numbered grey blocks. But it's hard to complain about problems in a free game. Definitely a keeper for me. Give it a try!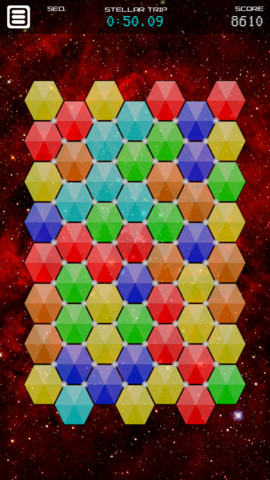 Kid Factor:
Nanolyte is great for any age. Reading skill isn't required, and the game is simple enough for anyone to understand. Some kids might be bored at the repetitiveness, but that's about it.