Posted on
March 25th, 2013
by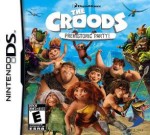 Just in time for the release of the new DreamWorks computer animated movie, The Croods, comes a prehistoric party game for up to four players starring the cast and setting from the new film. The game is available for all current Nintendo consoles, but the DS version is reviewed here.
To start, pick your favorite caveman (or cavewoman) character from the movie to play as. You can then play from a selection of competitive mini-games. Pick a number of mini-games to play right in a row, and whoever gets the most points at the end is the winner! Or you can play each mini-game one at a time. As you play, you'll earn Prehistoric Points, which you can use to buy and unlock new mini-games (more than two dozen in all), or you can purchase concept art and creature cards you can view in The Cave.
The mini-games are typical four player competitive fare, similar to what you would find in a Mario Party game. In some, you play as one of the Croods cave family members and try to paint a wall and cover it with your color the most, hit clams but not eggs, or some light platform jumping. Other times you may play as one of the movie's prehistoric creatures as you try and knock other players off a cliff as a ram, or run a race as a saber-tooth tiger.
Some of the mini-games are pretty easy to figure out, but others aren't quite as intuitive and some aren't that much fun at all. In one game that's like Red Light, Green Light, you must stop when the Punch Monkey turns around or else he'll throw a banana at you. But it's hard to tell when he turns around. Also, I'm sure the Wii and Wii U versions support four person multiplayer, and maybe the 3DS one does, too. But the DS one does not. I think the only people who would really enjoy this game are big fans of the new movie.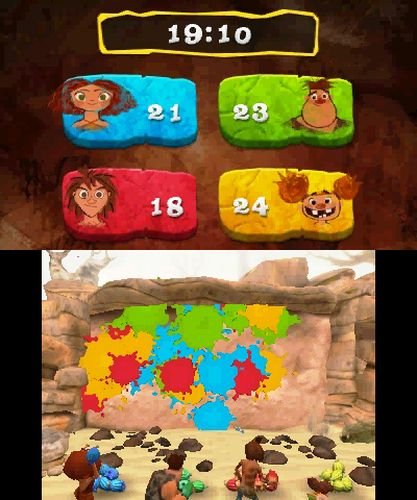 Kid Factor:
The Croods: Prehistoric Party is rated E for Everyone with an ESRB descriptor of Mild Cartoon Violence. Some of the mini-games have you hitting things with clubs, or avoiding lava, but nobody gets hurt. If you're OK with your kids watching the movie, they'll be OK with the game. Reading skill is helpful, as instructions are all text-based. Younger players may get frustrated as the computer controlled opponents can be tough sometimes.