Posted on
August 3rd, 2013
by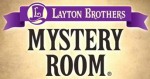 The Professor Layton games on DS and 3DS have captivated and puzzled fans for many years with mind bending brain teasers and likeable animated characters. Now Layton's son is getting a chance to puzzle gamers in a new way. In Mystery Room, play as newbie detective Lucy Baker as she is assigned to be Investigator Layton's new assistant. The two of you will investigate crime scenes and solve murder whodunit cases in this game downloadable for iOS devices (iPad) version reviewed here). It actually kind of reminds me of the Phoenix Wright: Ace Attorney games.
The first two cases are free, and you can buy the others in packs. I only did the first two cases, but I enjoyed them so much that I'm tempted to buy the rest. Cases 3 through 6 are 3 bucks and 7 to 9 are 2 bucks. So it's a really good deal. The first two cases are pretty short and easy, and only took me like an hour each to solve. But they are really fun and intriguing all the same. And it seems like there is a story that connects them all, and you might even uncover a dark secret about Layton's son in the process!
You start each case by looking at the suspects and trying to guess who committed the crime. Then you investigate the crime scene like a point and click adventure, except you use your finger and the touch screen to scroll and zoom in on objects of interest. When you have enough evidence to accuse the murderer of his or her crime, bring them in for questioning and present evidence that proves they did it.
The game is geared more toward casual gamers, so you don't get penalized if you guess wrong (at least not in the first two cases I played). Even though you could flub your way through things, the game was still fun and I enjoyed it quite a bit. Because of the lack of animated cutscenes, the characters don't emit as much charm as in the Nintendo portable titles. They're all just still pictures here. But I still enjoyed Mystery Room more because I didn't like how the brain teasers interrupted the game flow in the previous Prof. Layton games. Plus the puzzles in those titles felt too much like high school math story problems! And I don't like math! But if you like solving murder mysteries or enjoy the Phoenix Wright games as much as I do, you'll definitely want to download this!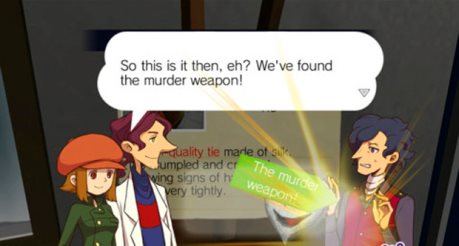 Kid Factor:
Even though the graphics are cartoony, you'll see still pictures of murders and investigate crime scenes with blood. Nothing too horrific or graphic, but it's still there. So because of this and the high level of reading required, I'd only recommend this one for teens and older.