Posted on
August 8th, 2013
by
Game maker Natsume is best known for their long-running successful Harvest Moon series of farming simulations, but did you know they also have a popular line of fishing games, too? Now you can enjoy Reel Fishing on the go with a portable version for iOS devices (played here on iPad). Best of all, Reel Fishing Pocket is totally free!
Gameplay is super easy to learn and perfect for portable play. Use the touch screen to tap and select your location on the lake (more spots will open up later). To cast, just tap on your fishing rod and hold down slightly for a longer cast. Once underwater, when a fish bites you may need to slide upward to hook the fish, then hold down on the icon on the bottom left corner to reel it in. You can reel in slow or fast, depending on where you tap on the reel icon. But mind the tension meter on the left side of the screen, too. If it gets too high, you'll want to release the reel icon so the line won't snap. But don't let the meter get too low or the fish will get away, too! Luckily the game isn't too hard, and you won't have to wait too long to get a fish to bite!
However, certain fish only go for specific bait, so you must buy different lures at the tackle shop. Each lure has a limited use, except for the default worms you start out with. Once you run out of other lures you'll have to buy more. Purchase lures and new locations with the points you earn by catching fish.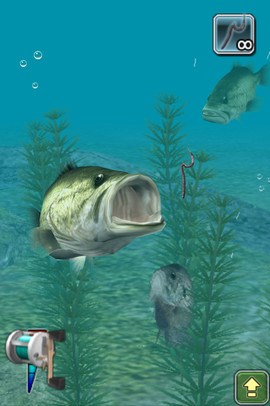 Every so often a mission will pop up that'll ask for you to catch a certain number of a type of fish. Complete missions to earn ranks, medals, and other goodies. Sometimes a timed mission will appear where you have a time limit to complete the objective. But don't worry; if you fail you won't lose anything. There are also weekly missions, too, that require you to complete it within the week. This is slightly confusing because they mean the in-game week, not an actual week of real time. You see, in the game you can fish for about five or ten minutes at the lake, then the sun will set and that counts as a day in the game. You can come back immediately and fish the next day, though.
The 3-D graphics and fish movements look great, and I love the simple yet addicting gameplay. Only problem is that I wish there was a meter to let you know how close the fish is to you when you reel it in. But that's only a minor complaint for a free-to-play title. Speaking of which, that's what surprised me most about this game is that it is truly free. You don't have to pay real money to buy tackle, you aren't limited to playing for a certain amount of time, and you're not bombarded with any ads either! Unless something changes in the middle of the game (I have gotten pretty far so I don't think this'll happen), this is a totally self-contained free title! I'm not sure how Natsume is making any money off of this fun little gem, but if you like fishing games, might as well take advantage and download this now!
Kid Factor:
Because of the simplicity and low difficulty level, Reel Fishing Pocket is perfect for kids. It may even be considered slightly educational, too, as it teaches about different kinds of fish. Reading skill is helpful for the menus, though, but picture cues during the actual game help show how to play, too.