Posted on
August 30th, 2013
by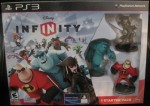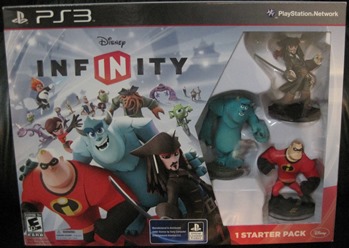 Recently a report went out saying that Skylanders is the top selling action figure line here in the US. Now Disney wants of piece of the action, too! So here comes Disney Infinity, a video game action figure combo where you place popular Disney character figures on a stand and then you can play as them in the Disney Infinity game! It's available for nearly all the current popular game consoles, but the PS3 version is reviewed here.
You can purchase the Starter Pack, which has everything you need to play the game. Here is a larger picture of the box.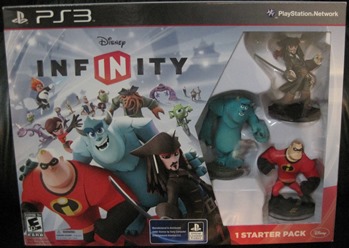 Inside you'll find the game, three figures (Sulley, Mr. Incredible, and Captain Jack Sparrow), a pedestal to put them on, a playset piece (it's the clear square one in the picture), a power disc card piece, and a card with a code so you can get goodies online on the Disney Infinity Web site.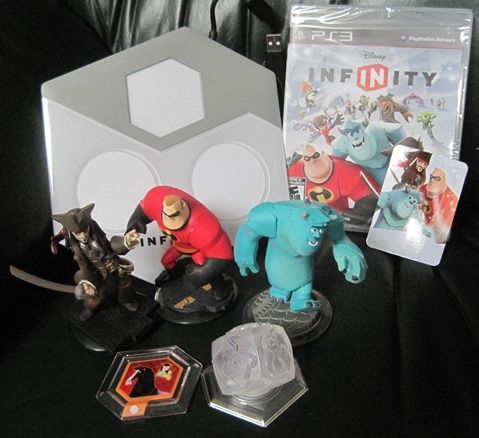 The game is a 3-D platform jumping adventure. By placing figures on one of the two circular sections on the pedestal, you can play as that character in the game. You can swap characters in and out at nearly any time. Characters can run, jump, double jump, attack, and hop in and ride various vehicles and mounts. Two players can play at the same time and you can also play online.
The game starts you out in the Toy Box area of the game. Here you can create your own world and games using parts and items. I've heard it's similar to the Toy Box mode found in the Toy Story 3 game, but I've never played that so I don't really know. By leveling up your characters and completing objectives, you can earn spins which you can use to get more parts to use in your Toy Box. These include things like textures, land formations, race track pieces, vehicles, costumes, and various Disney landmarks (even Scrooge's Money Bin!). Using the game's editor mode, you can create your own world and game rules in the Toy Box.
While on the subject, let's talk about Power Discs. These are small little card-like play pieces that you can place on the pedestal along with the figures. You can buy these separately and they come in bags of two, so you don't know which ones you'll get. Round power discs go underneath character figures and gives them various power boosts in the game. The more angular shaped pieces are items that appear when you place them on the pedestal and then you can use them in the Toy Box. My starter pack came with Mulan's horse that you can ride (not sure if all the Starter Packs have the same one). I also got a Power Disc bag that had an Alice in Wonderland piece that lets you decorate your Toy Box to look like Tulgey Woods, and a piece that lets you use the old guy's cane from Up as a weapon. All figures, playsets, and power discs can be used with any console version of the game.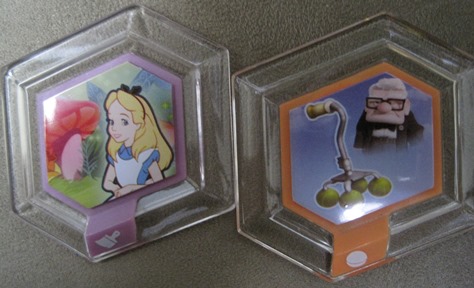 The clear square-ish figure in the Starter Pack is called a Playset Piece. When you place it on the pedestal, you can visit worlds from various Disney franchises and play games and missions in those areas. If you don't have a Playset Piece on the pedestal, you can still select various adventures that teach you how to play the game, as well as mini-challenge adventures to help you earn stars and level up your characters. These adventures include racing, battles, and other challenges. Each figure has its own adventure challenge, too.
But when you do have a Playset Piece set, you'll be able to select a whole world to tromp around in, and interact with characters and take on missions in those worlds. It's almost like having a separate game adventure. I can kind of see now why we never saw a Monsters University or Lone Ranger video game; they were saving it for Disney Infinity! The Starter Pack Playset Piece lets you explore three different worlds: Monsters University, the city from The Incredibles, and Pirates of the Caribbean. You can only play as characters from those worlds, though. So Jack Sparrow can't be used in the Monsters University world, for instance. Each world has its own feel as well. You'll play pranks on Fear Tech as Sulley in the Monsters University world, beat up villains and save citizens as Mr. Incredible, and go on a swashbuckling adventure with treasure hunts and naval ship battles as Jack Sparrow. You can buy different playsets and figures separately. Right now in stores are playsets based on Cars and The Lone Ranger, with more to come I'm sure.
While Disney Infinity is an addicting and engaging game for Disney fans, I still had some problems with it. The game is a bit more open-ended than Skylanders, which allows for more creative freedom and variety of gameplay. But it also makes some objectives and goals a bit unclear sometimes, too. The game also has some framerate issues (enough that I noticed it), and somewhat clunky jumping controls and movements. The figures you can buy separately are also a bit more expensive than the Skylanders ones, but you are paying for a licensed product now. The game also limits what characters can be in which worlds, so you can't swap characters all the time. Even though Skylanders encouraged you to buy more figures, you could play and see most of the game without having to buy too many. But in Disney Infinity, if you want to play in the Cars world, for instance, you have to buy that playset. I feel like I'm missing out on a big chunk of the game unless I buy more stuff. I also didn't like how you have to sign in or create an account on the Disney Infinity web site. I think they do this so you can share creations in the Toy Box and play online, but I didn't want to create another account to have to remember on another web site. Luckily you can opt out of doing that or do it at a later time.
Even with all these problems, Disney Infinity is still a very addicting and engaging game experience. Disney fans will definitely eat this stuff up. The game has a Hall of Heroes area where you can view your figures and power discs as well as upcoming ones that haven't come out yet. When they release figures and Playsets based off of Wreck-It Ralph and Phineas and Ferb like they show in the game, I might be tempted to get those. And some of the power discs look cool, too, such as the Scrooge McDuck money power up disc, or the power disc that lets you drive the Electric Mayhem bus from the Muppets!
Kid Factor:
Disney Infinity is rated E-10 with an ESRB descriptor of Cartoon Violence. While you do punch, hit, and shoot various Disney characters, when they lose all their energy they just fall apart like a toy (all the characters have kind of a 'toy' look to them). And with a sparkly swish, a few seconds later the defeated heroes are ready to play some more! If you're OK with your kids watching the Disney movies found in Infinity, they'll be OK with the game, too. Reading skill is helpful for some of the menu text, but there is lots of spoken voice and instructions, too. Younger gamers might get frustrated at some of the more difficult objectives and controls, though. Parental supervision is also recommended for the online stuff, although Disney is pretty good at keeping the online areas safe. Also make sure your kids are mature enough to keep up with and take care of their toys, for if they lose figures for the Disney Infinity game, they won't be able to enjoy large sections of the experience.