Posted on
September 19th, 2013
by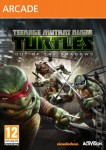 With comic books, cartoons, movies, and lots of video games, the four Heroes in a Half-Shell have been delighting children and fans since, well, since I was a kid! Now they're back in a new 3-D action brawler downloadable game (360 version reviewed here).
Out of the Shadows is a bit deeper than your standard TMNT video game fare. In the main game, you'll complete missions to stop Shredder and the Foot Clan in the dark streets, alleys, and subways of New York City. Choose your favorite turtle and you can switch to any others following you at any time. Use combo attacks and throwing stars to defeat waves of thugs. You can also sneak up on unsuspecting baddies to dispatch them quietly. Two can play co-op split screen locally or online.
As you defeat enemies, you'll gain experience and level up. As you gain levels, you'll earn points that you can use to spend on attack upgrades. Between missions, you can also buy and upgrade new weapons for the four turtles, view concept art you've unlocked, and other goodies. While the main game mode is a bit more complex than what I'm used to in my Turtles games, luckily they've also included a four player arcade mode. Only problem is you have to complete missions in the main game to unlock all the stages in arcade mode!
Other problems I had with the game are I felt the controls were a bit too complex sometimes. Also, goals and objectives in the missions were sometimes unclear, and it was hard to know where to go next. A map or a hint arrow every now and then would've been nice, instead of just stumbling around everywhere. And the dark and disorienting graphics didn't help either. Plus the missions were kind of long; I think they could've broken them into smaller segments. And every now and then you had to wrestle with camera angles, but that happens with nearly every 3-D game. Despite these problems, I think TMNT fans will still like this new entry anyway. Even if it did make me hungry for pizza!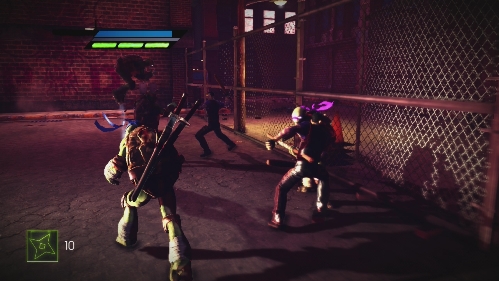 Kid Factor:
TMNT: Out of the Shadows is rated T for Teen with an ESRB descriptor of Violence. Even though you punch, kick, and slash thugs and hooligans, they just fall over and disappear when defeated. Reading skill is needed for the text, and younger gamers may get frustrated at the difficulty and disinterested with the longer missions. But most everyone can still enjoy the game thanks to the two player co-op in the main missions and four-player arcade mode. And even though the turtles are a bit violent, they get along with each other and work together like brothers to solve their problems, so I'd be OK with any kid playing this.