Posted on
November 11th, 2013
by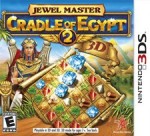 In this match-three style puzzler, your job is to build up Egypt by lining up three of the same kinds of shapes to make them disappear. It's very similar to Bejeweled, but in this one, you finish rounds by breaking tiles underneath by clearing out items in front of them. Once you do that, it's off to the next round. Use the stylus and touch screen to tap on items and switch them to adjacent ones to line up three in a row.
In Cradle of Egypt 2, items that you match become resources for building up your empire. Match coins to earn money, wood for lumber, edibles for food, etc. After each stage, when you have enough money and resources, you can buy buildings, structures, and technology to help your empire. Once you buy them, you can play an annoying sliding picture puzzle of the item you bought. But luckily you can just skip that part of the game. When you make certain structures, you can earn special powers that can help you out when playing puzzles. Just slide the tools over the blocks to break certain ones, depending on the tool. When you buy all the buildings in an Epoch, you can move onto the next. If you don't clear a round in the given time, you'll have to start that round over again. Sometimes, chains over tiles keep you from moving the items, so you need to match the ones around it to break the chains so you can move and clear out the shapes.
Aside from the main story mode, you can also play each stage separately to try and beat your best time and score. And after you beat the game, you'll unlock a Tournament Mode, too. The only problem with this game is that it can be challenging sometimes, so it's only recommended if you're an expert at these kinds of games. And I don't see how it's any different than the other Jewel Master titles I've reviews in the past. But if you can't get enough of match-three puzzlers, you'll want to check this one out, too.
Kid Factor:
Jewel Master: Cradle of Egypt 2 is rated E with an ESRB descriptor of Alcohol Reference. One of the resources you can match is beer, but that's it. Reading skill is needed for the text, and younger gamers may get frustrated at the more challenging levels. But otherwise it's OK for any age.