Posted on
November 23rd, 2013
by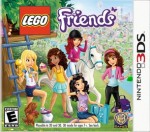 There is a new line of building toys geared towards girls called LEGO Friends, and now your little builders can play a game based on the franchise! In the game, visit your LEGO cousin Olivia and participate in a bunch of fun summer activities, make new friends, and go on adventures!
When you first start the game, you'll be in Olivia's yard where she'll show you the ropes. You'll try on new clothes, build a doghouse, and she'll even give you a pet (more on that later). Play control is simple. Move around with the analog stick, interact with people and objects with one button, switch to your pet with another, and jump with a third button. Cycle through your items with the L and R buttons. There is also a button for twirling, but I don't know what good that does.
As you play, you'll meet new friends who will have activities for you to participate in, which will open up new areas for you to visit. Take summer classes and play sports at the high school, shop for clothes, take care of animals, and dance at the studio on Main Street, go horseback riding and rescue animals in the meadows, and more! Most of the activities involve finding items and bringing them back to your friend for you to build. But sometimes you'll play a touch screen mini-game, such as scoring goals in soccer, dancing, and grooming animals.
Every so often, you'll unlock a new pet that'll follow you around as you play. At first you start out with a dog, but later you'll unlock other critters like a cat, bunny, bird, and even a hedgehog. You can switch to control the animals at any time, and sometimes they can help you out with their special skills. The dog can dig and sniff out secrets, the cat can jump and climb high places, and the bird can fly, for instance. Scattered about the areas are LEGO studs. Collect them to spend at the shops to buy goodies, clothes, and accessories for you and your pets.
Goals and objectives are almost always very clear. On the bottom screen you can view text messages from your friends telling you what to do next. You can even tap on the 'quests' to pull up an arrow to tell you exactly where to go. Although there was a time or two where things got a tiny bit confusing, but nothing too bad. Only other problem with this game is the loading times can be grating after a while. Other than that, though, this is probably one of the best games geared toward girls that I've played all year. Definitely recommended if you have a little girl who loves playing with LEGOs and her 3DS.
Kid Factor:
Even though there is plenty of spoken voice, reading skill is still needed to navigate the menus and goals. 99 percent of the game is easy to figure out and play, but there were a couple of goals and jumping puzzles that were a tiny bit tricky. Even so, this title exuberates quality and is a fairly long game, too, so your little girls will be entertained for quite a while. LEGO Friends is rated E for Everyone.