Posted on
November 26th, 2013
by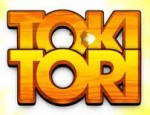 Earlier this year I reviewed a downloadable Wii U puzzler called Toki Tori 2. It was a sequel to a classic Game Boy Color game that eventually found its way to Steam and Wii with updated graphics and sound. Now you can play the updated version of the original game on Wii U, too! Play as Toki Tori, one of the most adorable little yellow birds you ever did see. Help him collect his eggs that have been scattered all over. But it's not so easy as that. You'll have to solve puzzles, use tools, and avoid baddies in dozens of 2-D levels. With Thanksgiving coming up, being a holiday featuring a bird, I thought it would be neat to review games featuring other birds this week.
Toki Tori can't do much on his own. He can waddle left and right, climb up ladders, and hop up the smallest of steps. Luckily in each level, Toki Tori can use a limited number of tools to help him bypass obstacles and enemies. He can build bridges, teleport short distances, use a freeze gun to ice enemies in their tracks, and more! You'll learn new skills as you progress.
The downloadable Wii U version has all the improvements of the Steam game. Better graphics and sound, all the hard and bonus levels, a handy 'rewind' feature if you mess up, and more! And the price is right, too. I recommend downloading it, and while you're at it, check out Toki Tori 2, as it's a brilliant Wii U puzzler as well. And Toki Tori is so cute; I wish that they would make T-shirts and plush toys of him. I'd buy 'em, anyway.
Kid Factor:
Toki Tori can freeze enemies and if he gets hit, he'll just disappear, but that's as violent as it gets. Reading skill is helpful for the text instructions, and younger gamers may get frustrated at the more baffling levels. The game does teach logic and thinking skills, though, and is rated E for Everyone.