Posted on
December 31st, 2013
by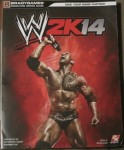 WWE 2K14 is a wrestling video game celebrating 30 years of Wrestlemania featuring Superstars and Divas from three decades. And now you can celebrate, too, with the WWE 2K14 strategy guide; featuring moves for all the wrestlers, and all the events you can participate in.
The first part of the guide goes over basic controls, options, abilities and tips, unlockables, and Achievements and trophies. But the majority of the guide features all the Superstars and Divas you can play as, with stats, a short bio, and a couple of pages listing their moves. I don't really know much about WWE personally, but at least I know who this guy is. Everyone knows The Hulk!
And here's one of the Divas. I didn't know there were lady wrestlers on WWE, although I met one once at E3 a long time ago. Can't remember her name right now, though. Stacy…something, I think. Only reason why I picked this page is that the guide says she's from Texas, so that's cool I guess.
Hey I remember this guy from when I was a kid. He was on a lot of the G.I. Joe action figure commercials. But then, I was a Transformers man myself, so I really didn't pay much attention to them.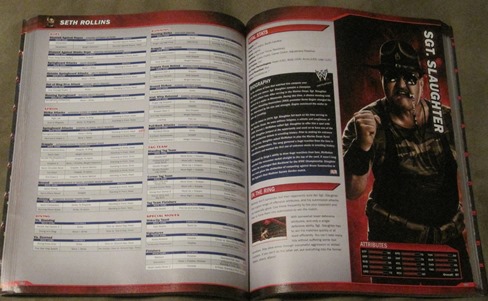 The last part of the guide has tips on specific match types, as well as an overview of 30 years of Wrestlemania, plus tips on online play and creating your own wrestlers. I think any WWE game fan would enjoy this guide. Even though it's based on a T rated game, if you're OK with your kids watching this stuff on TV, they'll be OK with the guide, too.