Posted on
February 14th, 2014
by
Based on the current hit (and very awesome) LEGO film comes The LEGO Movie Videogame. Following the same plot as the film, play as Emmett, Wyldstyle, and other heroes as they explore locations in the movie like Brickburg city, Wild West Flatbrush Gulch, crazy Cloud Cuckooland, and more as they try to thwart Lord Business' evil plans. The game is available for all current game consoles, but reviewed on Xbox 360 here.
At heart, it plays like any other LEGO video game. Sock enemies, bash blocks and build new LEGO structures, drive vehicles, use teamwork, and solve puzzles. Collect LEGO studs to buy new characters and vehicles to use in Free Play, and find hidden red and gold LEGO bricks to unlock cheats and other goodies. Just like the others, a second player can join in and hop out at any time for some co-op fun.
Similar to other more recent LEGO titles, you reach levels via a hub world which encompasses all the areas in the game. This title seems to have a little more emphasis on mini-games, too. In some sections, you may have to build structures by following the instructions, and match pieces where they go in a time limit. Or you might have to do a rhythm-based dancing sequence to the "Everything is Awesome" song. You can also collect hidden items like LEGO kits and pants.
Only problem with this game is the same found in other LEGO titles. It can be a bit buggy sometimes. I got stuck in a corner more than once, for instance, and needed assistance to break free. Also, you may want to see the movie first before playing this game in case you don't want things spoiled for you, as the video game has lots of footage from the movie in it. But I highly recommend you go see the movie regardless, as it's very good and rivals even some of Pixar's works. While The LEGO Movie Videogame is more of the same, it's still a fun co-op adventure for the whole family, just like the film.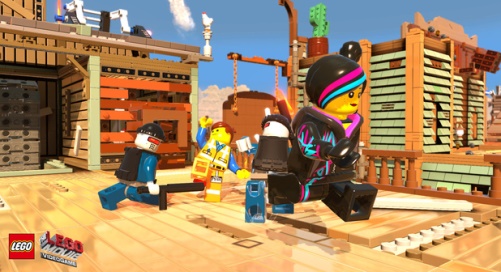 Kid Factor:
The LEGO Movie Videogame is rated E for Everyone with ESRB descriptors of Cartoon Violence and Comic Mischief. You can punch, shoot, and zap bad guys, but they just fall down or go to pieces when defeated. They make it perfectly clear that everything is made out of LEGOs, so violence isn't really that bad. If you're OK with your kids watching the movie, they'll be fine with the game, too. I'd be OK letting any kid play any of the LEGO games, personally. If you are defeated, you just appear right back where you were with a minimal loss of studs, so it's not too frustrating. Even though the game has tons of spoken voice, reading skill is still helpful for the menus and tips. If a younger player does need assistance, another can join in at any time. Which is always recommended, as LEGO games are more fun with a friend anyway. And take your kids to see the movie, too, it's great.