Posted on
March 8th, 2014
by
Competition to make smaller, faster, lower powered phones has resulted in cell phone chip manufacturers to the cutting edge of technology, now outpacing computer chip manufacturers in technical abilities.  As cell phone capabilities grew, software initially designed for PCs was ported onto the new platform.  However, cell phone technology has now come full circle and consumers can now purchase game consoles and even personal computers powered by the same chips found on popular cutting edge cell phones.  Most of these new "boxes" run on some form of the common Android operating system initially found on phones but is now being used in a wide ranging number of ways.  One of the newest entries to the field of Android powered hardware is the MiiPC box. The MiiPC claims to bring web-based desktop applications (cloud-based computing),  media center capabilities, and serve as a gaming console all for under $100.   To top things off, it also has a flexible and robust set of parental controls to make it family friendly.
The MiiPC is extremely simple to setup, just plug in a USB keyboard and mouse, hop through a few menu screens to get the WiFi connected (or plug in a direct cable) and you're up and running.  Many free and low-cost Android apps are available in the many Android app stores around the internet.  One
The MiiPC folks claim their little black box can be a multitasker in your living room area.  Using your HDTV (or a computer monitor), the MiiPC acts as a gaming console, desktop computer, and media center all rolled into one and tied up with a "bow" of impressive parental controls.  Lets take a look at each claim, one at a time.
Parental Controls
The parental controls on the MiiPC stand out as its most impressive feature.  Controllable through the console itself, via the web, or even iOS and Android apps, the MiiPC can be monitored and managed separately for each member of your family.  Access to individual programs on the MiiPC can be turned on and off for each user, monitored on the fly, and known "addictive" type games or web sites that seem to just suck up a child's time can be given maximum time limits.  There's even a handy way to generate reports of how time is spent by a user, perfect for going over a child's habits to show just why Jimmy is out of time for playing one more round of Angry Birds…  The parental controls aren't going to be a panacea for all the parenting problems a computer can bring – parents would be wise to be careful of which apps are allowed (for example, allowing use of Facebook could be fairly harmless, or quite inappropriate – depending on your child's Facebook interactions.)  All in all, the MiiPC has some of the best and easiest to use parenting solutions I've seen.
Desktop Computing
The MiiPC can function as a possible primary or (more likely) a second or third computer for members of the household.  Office-like word processors and spreadsheets can be downloaded as Android apps or simply use entirely on-line solutions like Google Docs.  Unlike the iOS platform, Android supports Flash technology (you have to install it separately) which means users can access many more web site features (even web browser based games) than can be found on an iPad or iPhone.  The MiiPC supports HDMI output which means it can easily be connected to either a modern HDTV or standard computer display.  Most personal files (documents and such) would typically be stored online in the "cloud", but the MiiPC can also store files on SD cards or on USB drives for easy transfer to other computers.  In fact, one can simply plug in a large, external USB hard drive to greatly increase the MiiPC's storage capacity.  A final plus in the MiiPC's favor is its low energy footprint.  Since it runs off a chip designed for a phone, it uses very little energy compared to standard computers (10x less in some cases).
Media Center
Having a large attached hard drive (or one accessible over your local internet) has additional advantages as it helps the MiiPC to function as a home media center.  Capable of playing locally stored movies and songs, the MiiPC is also able to take advantage of the wealth of Android apps set up by the major entertainment channels (and YouTube) to broadcast their content.  The MiiPC also works with popular both PLEX and XBMC media managers.  PLEX offers DVR type streaming as well as streaming of local files.  It is free but most of its better features require a subscription.  XBMC is an open source (ie. "free") media center that provides streaming of local files as well as a nice interface to most of the popular online channels.  One huge gap in the whole media center function is the lack of an easy to use Netflix option.  While there are technical issues involved, this is nearly a non-starter for most people looking for a media center device.  Thankfully, all the issues revolve around the software end, so it should eventually get cleared up.  For the time being, there is a workaround by installing a custom version of Netflix, but "Your Milage May Vary".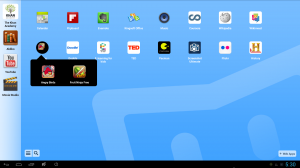 Gaming Console
MiiPC is also touted as a console gaming device, with 100+ kid-friendly android games curated by the software, CannonBall – which also provides some game controller compatibility.  The MiiPC works with most PC gamepads, as well as popular controllers from the PS3 and XBox 360 (the unit does not come with a gamepad).  As an Andriod device, the MiiPC also has a wealth of inexpensive games available for that platform.  While I had no problems accessing and downloading games from the Cannonball app, they didn't particularly excite me.  Yes, the gamepad was working, but in the games I tried it seemed to have a problem with quick response times, making more action-oriented games particularly frustrating.  However, this is not an across the board problem.  Several of the apps I downloaded from outside the Cannonball app worked very well with the gamepad.  (Many of the Android app store games include or are including game controller support.)  The largest issue with using the MiiPC as a console is simply the lack of a touch screen.  Android tablets and phones have a touch screen and thus pretty much every game or app is expecting that sort of interface.  This makes any game requiring movement around the screen tiresome.  This is easily solved by using a mouse, making Angry Birds, various Tower Defense apps, etc… all perform perfectly.  That's great, but using a mouse sort of defeats the purpose of calling something a game console.  My final concern is with the computing power of the MiiPC. I downloaded several apps from typical app stores that seemed to cause the MiiPC to have a hard time keeping up its frame rate.  This is may be due to the nature of the Android market (hardware is very diverse so it is hard to gauge just how CPU intensive is appropriate for a game), but does demonstrate the performance of Android apps will certainly vary – much more than on other, more tightly controlled platforms.  On the plus side, dispensing with the controller and using a mouse (and possibly a keyboard) instead, opens up a much wider range of playable apps.  Games that need fine touch control – Angry Birds, strategy games, tower defense – become very playable.  In my opinion, the MiiPC doesn't quite live up to its aspirations to become a console unit.  Possibly, as future apps add in better controller support, it may evolve into a much better interface.  It does perform reasonably well as a desktop type computer that can play Android app games.  For now, don't be expecting too much from sitting on a couch and playing games with a controller.
Final Thoughts
One thing that I haven't mentioned yet is its incompatibility with the most popular Android app store: Google Play.  Since MiiPC doesn't have a true touchpad interface, it is not allowed to interface with that app store.  However, there are a number of sites hosting free apps, and other sites (such as the Amazon app store) that have a good selection of paid apps.
All in all, I think the MiiPC has a number of things for which it excels and a few that aren't quite ready for prime time.  The hardware seems fairly solid, so it is reasonable to assume that given sufficient support it can only get better.  For now, MiiPC is an excellent choice for someone looking for a handy way to monitor and govern their kids' computer use.  With a very easy to use interface and some quality monitoring options, it is one of the best systems I have seen (outside of tricky parental blocking on one's wifi router or some such thing…)  It looks to work well as an inexpensive paper-writing, spreadsheet using, web surfing computer.  The media center portion works, but it currently lacks the (hopefully fixed in the future) big lack of access to Netflix.  Finally, the console portion just isn't ready for prime time.  This may change as more apps are adapted to optional gamepad controls.  Not bad for a computer that comes in under $100.