Posted on
March 12th, 2014
by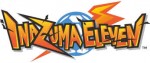 Inazuma Eleven is a super popular video game in Japan and Europe. It's spawned a few sequels, an anime cartoon, and even a card game! And now the original title is finally coming to the US with 3DS enhancements and only downloadable on the Nintendo eShop. But what KIND of game is Inazuma Eleven? Get ready for it…it's a soccer-themed RPG! Yup, you heard right.
Play as Mark, a junior high school student and captain of the school's soccer club. All the other members of the club are lazy and just want to stay in the clubhouse playing games, so the club in threatened to be disbanded. But Mark has a passion for soccer, and a new transfer student plus a surprise match against another school gets the team fired up again! Especially when they discover they can pull off special moves that turn the ball into a fireball or a dragon! So they all keep practicing so they can keep the club going and win the big tournament!
There are two main types of gameplay in Inazuma Eleven. In the RPG sections, Mark and his team members will walk around the school grounds and even travel to other places in town. They may need to talk to a certain person to move the story along, or they can search for items, uniforms, and scout for new club members (there are a ton you can have on your team). You view the action in a 2-D, top-down view, so anyone familiar with RPGs like Pokemon will be able to dive right in. After you complete the first chapter, anytime you walk outside you may even encounter a random soccer battle!
Speaking of battles, that's the other main part of the game. In random battles, you may have to just perform one task, like make a goal first or take possession of the ball. But there are also full game matches against other teams during pivotal points in the story. In these battles, you'll use the stylus and touch screen to draw paths for your players to go, and if you have possession of the ball, you can tap anywhere on the field to have that player kick or pass the ball. When you are near an opponent, you'll have a choice of moves to use to take the ball or keep it in your possession.
As you progress the story, you'll also learn super special powerful moves for each player. Some include kicking a fireball into the goal, or turning the ball into a dragon! Goalies can use moves, too, such as summing a giant hand to block the ball. These moves cost TP, which you can refill with food items you collect in the RPG sections. Winning games and battles earns you experience points, reputation points, and friendship points that you can use to level up your players skills, spend to heal players or upgrade their stats, and make it easier for you to scout for new recruits. If you lose random battles, you'll only be docked a small amount of points, but make sure you're ready to go before a full match, because if you lose, it'll be Game Over and you'll have to start at your last save. After you beat the first chapter, you can also do local multiplayer matches with other people who have a 3DS and the game downloaded as well.
While Inazuma Eleven is a creative take on sports-themed RPGs, I had a few problems with it. The RPG sections can be rather long with too much dialogue, especially in the first part of the game. And the stylus-only controls during matches aren't always intuitive and the learning curve is steep. It gets better as you level up and learn special moves, so patience is rewarded. Even so, the players on the field are so small and indistinguishable that it can be tough to tell who you need to pass the ball to, which is important since each team member has their own special skills. But even though I didn't like the battles much personally, the game is popular worldwide for a reason. So if you enjoy creative RPGs or just want a new way to play video game soccer, you may want to download this anyway.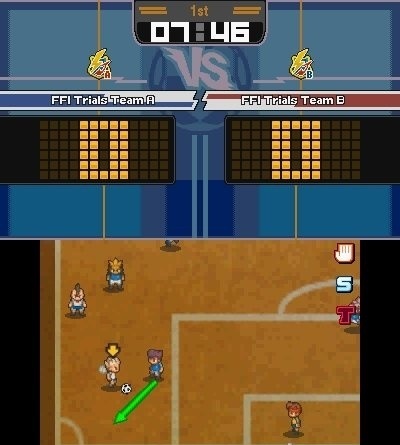 Kid Factor:
Inazuma Eleven is rated E for Everyone with an ESRB descriptor of Mild Violence. It's just soccer, although since it's a fantasy cartoon there are a lot of animated scenes of kids getting smacked in the face with a flaming soccer ball. Reading skill is a must with all the text, and younger gamers may get frustrated at the higher learning curve. But older kids who enjoy sports and Pokemon style games may like this.