Posted on
April 11th, 2014
by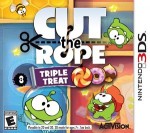 Cut the Rope is a popular casual game most prominent on tablets with touch screens, and has spawned sequels and spin-offs as well as toys, key chains, and other products. It's almost as famous as Angry Birds. And now you can play Cut the Rope on your 3DS featuring three titles: the original, Cut the Rope: Experiments, and Cut the Rope: Time Travel. It's three games in one!
The object in all Cut the Rope games is simple. In the game resides a little green blob critter named Om Nom. He lives in a cardboard box and loves candy. In every level, Om Nom is somewhere on the screen, usually at the bottom, and a piece of candy is dangling on a rope or several ropes. Use the stylus to slash and cut the rope, and send the candy into Om Nom's mouth to beat the level.
But it's not always that easy. Sometimes multiple ropes hold the candy in place, and you must cut certain ones or snip them all at once to send the candy falling or swinging in the right direction. It's very physics-based. In each level are three stars, and if you go over any of them with your candy, it'll increase your score and help you unlock new worlds and levels. There are also other obstacles that you may have to contend with, like springy ropes, bubbles that can encase your candy and send it skyward (tap to pop the bubble), and other objects you can interact with to get the candy where you want it to go.
The three games in Triple Treat include the original Cut the Rope as well as Cut the Rope Experiments. Experiments is similar to the original, except has a science lab theme with moving objects and harder puzzles. The third game, Time Travel, has Om Nom on a time travelling adventure. In this one, you have to contend with two pieces of candy: one to feed Om Nom, and one to feed his friend in that time period, like a caveman Om Nom or a similar critter from the Disco era.
You can also view your high scores for each level as well as achievements earned in each game. There are also more than a dozen cute little animated shorts featuring Om Nom that you can watch. With more than 650 levels spanning across three games, you'll have plenty to do and lots of fun doing it!
Kid Factor:
You may wonder why you'd want to pay money for this game when you can get them a lot cheaper on a tablet device. But having it on a 3DS is perfect for kids who may be too young for a cell phone or tablet, or are too young to play with their parents' electronics. Plus you don't have to worry about advertisements bombarding you like they do in many tablet games. So that's why the 3DS version is perfect for kids. No violence whatsoever, but reading skill is helpful for the text instructions, and younger gamers may need help with the tougher levels. But it does teach logic and thinking skills, so it's kind of educational.  Cut the Rope: Triple Treat is rated E for Everyone.