Posted on
May 23rd, 2014
by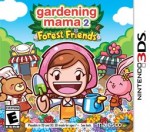 Spring is in full swing, and what better way to celebrate the season than with everyone's favorite video game Mama?  From the popular Cooking Mama franchise comes the sequel to Gardening Mama for 3DS.  Play mini-games to earn seeds, and then grow flowers, fruits, and veggies in your garden.  Give your crops to your forest friends who are running their own shops in the woods.  It's kind of like a Harvest Moon game for young kids.
Each day in the game lasts for about five to ten minutes, and gives you plenty of time to do what you need to do.  Each morning one of your forest pals will wait at your doorstep, and request flowers, fruits, or veggies for their shop.  There's a bunny who owns a flower shop, a penguin who runs an ice cream parlor, a bear who has a restaurant, and more!  Once you've noted their request, you can check your mailbox to see if any of your friends needs help gardening.  Here you'll play gardening themed mini-games using the stylus and touch screen.  You may have to water flowers, pick veggies, make juice, and much more.  There are more than 50 mini-games in all, so you'll be kept busy for quite a while.
Winning mini-games earns you new seeds to grow in your garden.  The good thing is that you don't have to perfect the games in order to get the seeds.  After each mini-game, a meter will fill up depending on your score.  You can keep retrying the mini-games until the meter is full, and when it is, you'll get your reward.  This keeps the game from becoming too frustrating for younger kids.
After that, you can tend to your garden.  Plant new seeds, water each one with the touch screen (take care not to overwater), and play mini-games to keep bugs and other pests away from your plants.  After a few in-game days, your plants are ready to be harvested.  You can give them to your animal friends to help grow their shops, or store them in your shed for later.  Fulfilling your animal pals' requests earns you shopping tickets that you can use to buy decorations for your garden.  You can also level up the shops and your garden, giving you more room to grow things.
Aside from the main part of the game, you can also play each unlocked mini-game separately, or take photos with the 3DS camera and decorate them with Gardening Mama themed stickers and frames.  Really the only problem I had with this game is that some of the mini-games were tough to figure out at first, and the font is a bit hard to read sometimes.  But it's still a great little game for kids and the young at heart.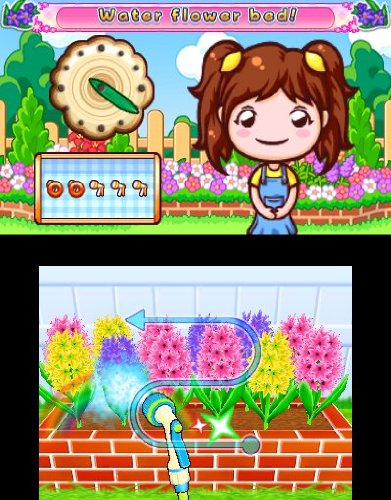 Kid Factor:
Gardening Mama 2: Forest Friends is rated E for Everyone with an ESRB descriptor of Alcohol Reference.  Alcohol Reference?!?  Well, in one of the mini-games, you stomp a tub full of grapes like how you would make wine, but the game doesn't tell you that's what you're doing.  Kids could think you're making grape juice for all they know.  Reading skill is necessary for the text instructions, and younger players may need help with some of the harder to figure out mini-games.  Luckily most activities also have picture cues to help you as well.  The game could be considered slightly educational as you get to see how plants grow and what they can be used for.  Too bad there's only one save file.  It's still a great kid's game, though.