Posted on
June 9th, 2014
by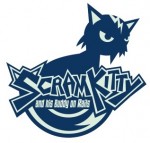 Felines are being cat-napped from their pet owners, and are being held prisoner in a giant space station overrun with super-intelligent lab rats out for revenge.  It's up to you to hop into your wall-traversing spinboard and save the kitties in this downloadable platform shooter for Wii U.
In the game you view the action from a top-down perspective as you pilot a spacecraft that can only travel on the walls on the playfield.  You can jump to avoid obstacles and collect hard to reach items.  And if you jump again while in the air, you'll crash to the ground and bounce again with a higher, fiery jump.  You can also fire blasters to shoot enemy mice.
In each level, you'll have to rescue a certain number of cats.  One cat just sits at the exit and you just have to make it there.  Another appears when you collect all the pennies in a stage, defeat all the enemies, or catch a runaway cat in a given time limit.  You'll need to replay and catch as many cats as you can in a stage, because you can't progress very far unless you rescue a certain number of the fickle felines.
The game does have some problems, though.  They don't always do a good job in the instructions telling you how to play and what certain items do.  Plus, sometimes the action switches from the Wii U pad to the TV screen and back, and that can get a little confusing, even though you can switch it back manually.  And finally, I just found the game rather difficult, and the limiting controls didn't help either.  However, if you enjoy challenging shooter platform games, such as ones from Treasure (this one reminds me of Bangai-O), than you might enjoy this title anyway.
Kid Factor:
Scram Kitty and his Buddy on Rails is rated E for Everyone with an ESRB descriptor of Mild Fantasy Violence.  You shoot little cartoony mice in UFOs and they explode and that's about it for the violence.  Reading skill is helpful for the text, and kid gamers may get frustrated at the high difficulty level and confusing controls.