Posted on
October 10th, 2014
by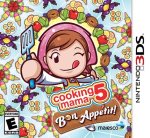 Everyone's favorite maternal video game character is back and needs your help in the kitchen again with Cooking Mama 5: Bon Appetit! for Nintendo 3DS. Just like the others, play touch screen mini-games to cook 60 different recipes, then help Mama around the house, yard, and shop with brand new mini-games, and test your skills at the Cooking Dojo!
Cooking Mama 5 has many modes, but the main one is Let's Cook! This is the game that most fans will recognize.  Choose a recipe, and then play a sequence of mini-games to cook your food.  Use the stylus and touch screen to chop, pour, stir, and much more.  Depending on how fast and how well you perform in the mini-games, you'll earn bronze, silver, and gold medals.  Each time you complete a recipe, you'll unlock more games and recipes to try.
Most of the other modes are mini-games, too. But these are single games that record your high score.  In Let's Help Mama!, play mini-games to help Mama do chores around the house, like feeding pets and more.  In Let's Help Harvest!, you'll step outside to help Mama with yard work like picking vegetables, similar to what you would do in the Gardening Mama titles.  You'll prepare food for customers and take their orders in Let's Help in the Shop!  And finally, in Let's Study!, play mini-games to practice spelling, math, and more.
If you want an extra challenge, there is the Cooking Dojo mode. Here you prepare special recipes but you only have a short amount of time to do it all.  And if you mess up once, you have to start all over.  There is also a multiplayer mode called Let's Play Together, but since I couldn't get anyone else I know to play a Cooking Mama game with me, I don't know what that is like.  You can also edit how Mama and the kitchen look in Mama's Gallery, and receive more items to decorate via SpotPass.
The only complaint I have with this game is that the font for the in-game instructions is a little hard to read, but luckily most of the mini-games are easy to figure out just by playing, as they usually give you picture cues to tell you what to do. Also, there really isn't anything different to set this game apart from the rest of the series.  Aside from Mama now being all animated in 3-D on the top screen, there really isn't anything new in this game.  But for a new generation of kid gamers, this would be fresh to them.  So as it stands, this is a pretty good game for kids and fans who can't get enough Cooking Mama.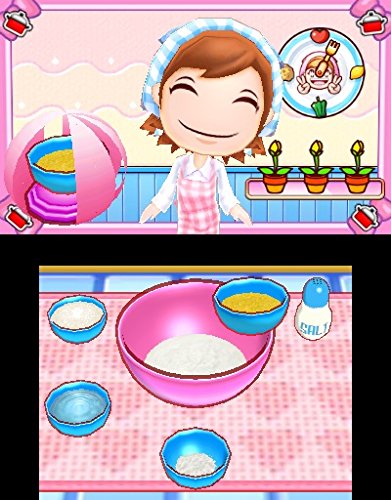 Kid Factor:
Cooking Mama 5: Bon Appetit! is rated E for Everyone with ESRB descriptors of Alcohol Reference and Comic Mischief. The alcohol is only used in the game for cooking.  Reading skill is helpful for the text instructions, but there are picture cues to tell you what to do during the games as well.  Sometimes it can still be hard to understand what to do in some of the events, but as long as your kids aren't anal perfectionists, they won't get too frustrated as the game still lets you progress no matter how good or bad you do.  Cooking Mama 5 could also be considered educational with the measuring and counting parts of the cooking games, as well as the Let's Study challenges that deal with spelling, math, and more!