Posted on
October 29th, 2014
by
P
egGoo Pop is an iOS and Google Play downloadable title that's free-to-play and very similar to other games like Peggle (reviewed on iPad here). Styled after Pachinko machines, your job is to aim a turret at the top of the playfield using the touch screen, and then release your finger to fire the ball and it'll bounce around.  Try to make it hit as many targets as you can.  You can tilt your tablet to try and steer the ball as it bounces, but it doesn't help much.
After the first five introductory levels, you'll select stages on a world map. On each level you'll have a goal, such as hitting a certain number of colored targets or getting balls into different funnels at the bottom of the screen, and a certain number of balls to do that with.  When you pass that goal and get at least one out of three stars, you can move onto the next level.  In each stage you can get up to three stars, depending on your score.
You can also select power-ups to help you in the game. Some include a rocket that'll make your ball fire straight forward, smashing anything in its path, or a bomb which will explode after being on the playfield for three seconds.  You'll get a few of these power-ups free initially to try out, but after that you'll have to purchase them with coins.
The game is free-to-play, so it has many of the nuances that those types of titles have. If you lose all your lives, you have to wait a while for them to regenerate.  You can buy more power-ups, lives, continues, and ad blockers via coins with real money in the in-game store.  And there are pop-up ads galore.  I personally find these things a little annoying, and the game relies on a bit of luck, but if you can't get enough of games like Peggle, you may want to try this one anyway.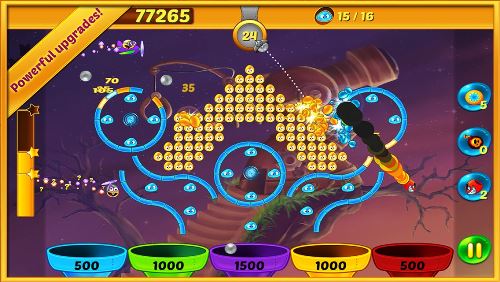 Kid Factor:
Aside from blobs with googly eyes popping when you hit them, there isn't much in the way of violence with PegGoo Pop. Reading skill is helpful for some of the text, but the game is pretty easy to figure out just by playing.  Parental supervision is recommended for in-game purchases.