Posted on
November 19th, 2014
by
A medieval kingdom is being invaded by monsters, and it's up to a brave wizard to save the day with…math?  Is he a mathamagician?  Har har!  Anyway, help the wizard zap the monsters with number spells in this game that's similar to Plants vs Zombies, but with math!  Originally available on Steam, now you can play it on iPad and iPhone, too (reviewed here on iPad).
In each level, monsters approach from the right side of a grid field and move left.  Each turn they'll move a space, and if they breach the castle defenses and make it through, you'll lose the level.  Each monster has a number on them, and if you tap them and a matching number from a spell page, you'll zap them away.  You can even tap multiple monsters, and as long as their numbers add up to the spell page, you'll zap them, too!  You can combine spell pages to make bigger numbers, and if you still don't have the number you want, you can discard a spell page for a new one.  But be careful when you do that because it'll count as a turn and the monsters will be able to creep closer to the castle.
Later on in the game, you'll be able to use potions, too.  Drag one of these concoctions to the monsters and you can add or subtract the numbers from their bellies to get the equation you want.  Later on you'll even get potions that can help you move monsters around the field for better results (monsters have to be next to each other if you want to add them together).  The game may be a little short, but it's still a great way for elementary school kids to practice their addition and subtraction skills with a fun game!  The kingdom is 'counting' on you! (Sorry, had to say it.)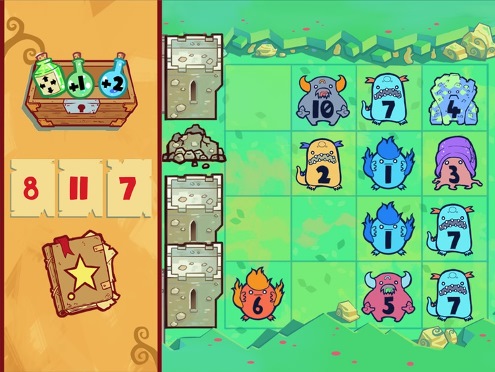 Kid Factor:
You zap monsters with lightning bolts, but that's about as violent as it gets.  Reading skill is helpful for the instructions, as well as number recognition and strong addition and subtraction skills.  Grown-ups can enjoy the game, too, as simple math games are great cerebral exercises for any brain age!