Posted on
December 31st, 2014
by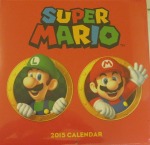 Happy New Year!  Every year for Christmas I get a new wall calendar to hang up at my work. And this year it was video game related so I thought I'd share it here.  It's a Super Mario 2015 Calendar!  Last year I got a Zelda one because the Mario calendar then didn't look quite as good.  There were both Mario and Zelda calendars this year, too, but the Zelda one looked about the same as last year's, and the artwork in this year's Mario calendar looked a little better.  Click here for a closer look.
Here is a bigger shot of the front of the calendar:
And here is a shot of the back with all the months.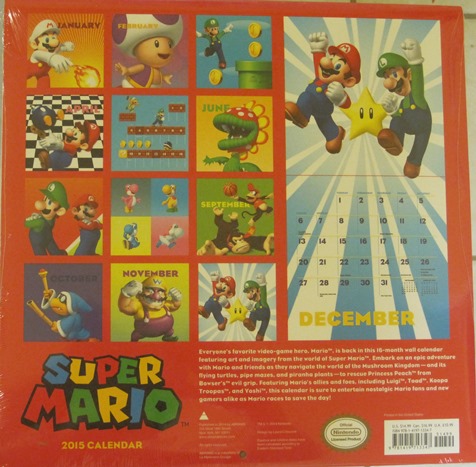 They also had a Pac-Man one I could've gotten.  So why didn't I get that one?  Well, because it was based on the awful Pac-Man and the Ghostly Adventures computer animated TV cartoon.  I wish they would make a Kirby calendar or an Animal Crossing one!  What video game calendars would you like to see?  Let me know in the comments section! –Cary