Posted on
October 19th, 2015
by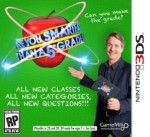 Hosted by comedian Jeff Foxworthy, Are You Smarter than a Fifth Grader is a TV game show where adult contestants try and answer school questions that 5th graders are required to know and learn in class. If the grown-ups forget or if that subject is a little fuzzy, they can call upon actual elementary school kids to help them out for a limited time. And now you can test and see if you're smarter with the 3DS game based on the television series.
The main game is similar to how the TV show works. You must answer ten questions, plus a bonus question. Each time you must pick from a school subject, like Math, English, History, etc. Every couple of questions you'll choose a 5th grader to help you. If you're not sure on a question, you can collaborate with them or peek at their answer. Or if you get a question wrong once, but they don't, you're still in the running. But be careful because you can only use each cheat once. If you can make it to the final question and answer it correctly, you win!
So what do you do with the cash you win by playing the game? You get to donate it to a school in School Mode. You can divvy out your money to improve different buildings in the school, which will help the students in the game show learn more and earn better grades so they can help you out. You can also unlock new students, too. You can learn which students are better at which subjects by donating money to the school and events, but I really didn't notice much of a difference myself.
Also by playing, you can earn trophies by completing certain tasks. And you can view how well you do in each subject. The caricature of host Jeff Foxworthy and the stage set help make the game feel authentic, but I had one big problem with the game: the text is too small! And considering that all you do in the game is read, that was the most difficult part of the game for me. But if you really like the TV show, you may want to check out the 3DS game anyway.
Kid Factor:
Reading skill is a must, and older kids would get the best enjoyment out of this game since the questions are geared toward that age group. Naturally, the game is educational since the questions come from a variety of school subjects. Are You Smarter than a Fifth Grader is rated E for Everyone.