Posted on
December 16th, 2015
by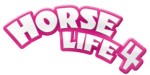 Ride, compete, and take care of your equestrian companion with Horse Life 4, a downloadable title for Nintendo 3DS.  Honestly I've never even heard of Horse Life 1-3, so I don't know what kind of improvements were made here.  So is Horse Life 4 hot to trot or a stinky pile of horse dung?  Giddyup and read on to find out!
The first thing you'll do is design your rider and horse.  Right off the bat there is a big problem.  You can only play as a female rider.  I know this title is probably targeted toward girls, but boys can enjoy riding horses, too!  You can choose your hair and skin color and outfit, as well as customize your horse.  You'll be able to buy more outfits and customization options later at the shop after you've earned enough money doing quests and completing competitions.  Sadly, you also can't name your horse.  And I so wanted to name it Turbo Horse, too.
In story mode, the main part of the game, your aunt has given you her farm, and you can ride your horse around it and perform quests and tasks and compete in races.  You'll ride around in 3-D space, and can make your horse go faster by tapping the A button.  Just don't let it get too tired.  You can find spots on the map like your stable, shop, competitions, and quests you can do, but the map is a bit difficult to read at times.
As you ride around, keep an eye on your horse's needs.  There are three things you need to watch out for: Mood, Hunger, and Hygiene.  When any of those gets too low, take your horse back to the stable and play mini-games to take care of your horse.  Tilt the 3DS to pour feed in bucket, use the stylus to stir it, and then tilt again to pour it evenly into the trough without spilling.  You also use the stylus to brush dirt of its hooves and tap to pick clods out, and you can also pet it to improve the horse's mood.  Most of the mini-games work well, but I could never get the feeding game quite right, as my horse would never get full!
The competitions include races around a rodeo stadium and gates on the farm, but they are really hard.  You can also compete locally with three other players.  Sometimes you must complete competitions to move the story mode along, and this is the biggest fault of the game, as the races are very difficult.  You can level up your horse to learn to jump and stand on it and other tricks, but I never got to do that because the competitions were so difficult.  I can only recommend this game if you are very patient and really like horses.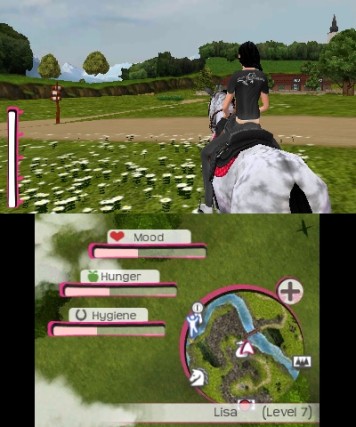 Kid Factor:
One of my cousins has always loved horses, and when she was little, she would make me play The Legend of Zelda: Ocarina of Time until you got to the part where you could ride a horse.  The she would make me stop playing so she could just ride the horse over and over again.  That's kind of what this game is like, except nowhere near as fun.  Just go play a Zelda game that lets you ride a horse instead.  Reading skill is needed for the text, and younger gamers may get frustrated at the confusing map and high difficulty.  Horse Life 4 is rated E for Everyone.