Posted on
January 18th, 2016
by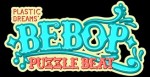 A jazz band's singer has been kidnapped and taken to a tower, and now you can help them save her by…solving puzzles? Bebop Puzzle Beat is an arcade action puzzle game with a jazzy theme, and it's free-to-play for iOS devices (reviewed on iPad here).
The game is simple. Colored tiles appear on the screen, and you must tap on two or more to clear them out.  They don't even have to be adjacent, even though the instructions said they do (unless I misread them).  When you match two, a line will form between then and any same colored tiles that touch that line will also clear out.  And as long as the tiles haven't disappeared yet, you can chain more by touching them before they go away.  And that's really all there is to it.
The extra rules are what make this game a bit more complicated. In each stage, you may have to do something different in a given time limit.  Like reach a certain score or match a certain number of tiles.  Later on you may have to defeat enemies and bosses by matching tiles.  Those are hard because not only do you have to keep up with matching tiles, but you must also move a cursor so that it lands on the enemy so it'll take damage.  And sometimes, the playfield itself will rotate and spin around.  You can tap on tiles to help you match colors like a joker wild card, and other tiles will slow down the spinning playfield, but it does get pretty annoying when it spins so fast that you can't really do anything.  Personally, I would've liked this game a lot better if they would've taken out the battle modes and rotating playfield.  Sometimes less is more.
Even though the game is free-to-play, I didn't find any of the nuances with this type of game that annoying. Sometimes after a game, a video ad may pop up, but you can skip them pretty quickly.  If you lose a level, one of your jazz band players will get captured and you have to wait a bit for them to be free, but you don't have to wait too long.  You can buy a master key once you download the game that makes it so you don't have to worry about that either.  It's the steep difficulty curve and annoying battles and rotating playfield that annoyed me.
Kid Factor:
Nothing violent or objectionable here. Reading skill is helpful for the text, and parental supervision is recommended anyway for the in-game purchases.