Posted on
April 4th, 2016
by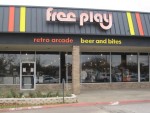 One thing I miss about being a kid in the 80's is going to arcades. You just don't see them anymore, and if you do, a lot of times they have more modern arcade machines, which I don't like as much.  But one cool trend I've noticed in the past couple of years is the rise of 'Barcades.'  These are bars that have a bunch of arcade machines in them, and since they try to cater to an older crowd, a lot of times they have old arcade cabinets from the 80's (and early 90's are OK, too, I guess).  A couple of months ago, my brother Jeff and I went to one of these barcades close to where we live (well, 30 minutes away anyway, it was in Richardson, TX).  It's a little late, but I just got around to showing off some of the pictures I took there.
Anyway, the barcade is called "Free Play." When you walk in, you pay a $10 cover charge, and then you can play all the games you want for free.  Here is a picture of the front of the establishment.  I like how even the front of the barcade looks like it came from the 80's, what with the stripes and font used for the logo.
Now one thing they make perfectly clear, even on the front of the store, is that this is a bar and an arcade. So you don't want to bring your kids here late at night I don't think.  When they first open in the early afternoon, I think they're OK with kids being inside, but there is one rule.  They have a sign that says that kids must always be accompanied by an adult, which is understandable.  It is still a bar after all and they serve alcohol and have tables and chairs, too.  Plus, they probably don't want irresponsible parents just dropping their kids off at the arcade all day.  Jeff and I went there in the early afternoon and I saw a bunch of kids playing games, so it's probably OK to bring your kids there in the early afternoon as long as you're there with them.
I didn't order anything to drink the time we went because it was pretty early in the afternoon, and I'm not much of a drinker anyway. My brother Jeff told me that he thought he saw where you could order something in a video game themed glass and get to keep it, so I might do that next time I go if they really still do that.  I did snag a couple of their coasters, though, because I thought they were pretty cool looking and had Pac-Man on them.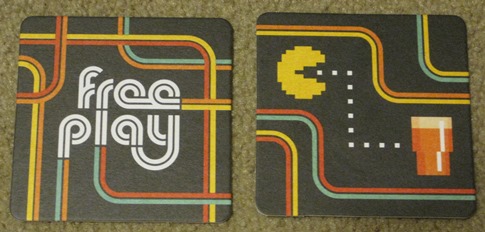 The games section has about 75 arcade cabinets and pinball machines total, which is pretty darn good I think. One thing I really liked is that they maintain their machines very well, and nothing was broken or out of order.  I've been to arcades like Nickel Mania, where you pay a nickel to play old arcade games, which is pretty cool until you find out more than half of the machines are broken or don't work well.  That's not the case here!  Also, if you go to their Facebook page and 'like' them, you'll be able to keep up with news regarding the Free Play arcade.  They always post something when they have a new arcade machine in, or when they have a special running (sometimes you can get it for half off).  So if you live around the Richardson, TX area, you might want to check them out on Facebook.
Anyway, here are some pictures of the inside of the arcade that I took. Sorry that the pictures aren't that great, as the lighting inside was kind of wonky.  You have these brightly lit arcade marquees and screens in a dark room, but sunlight was coming through a window, so my camera wouldn't always auto focus.  Plus I didn't want to take TOO many pictures in there and look weird.  But I think you can get a general idea of what the place was like anyway.
Here's a shot of one of the many rows of arcade machines. The highlight here is Gyruss.  That was an awesome game that was like a mix of Galaga and Tempest, and had some rockin' music!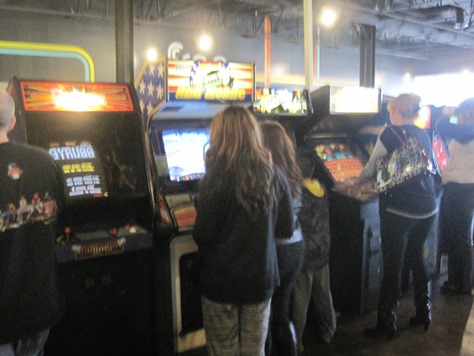 Here's another row of arcades. I took this picture in particular because it had a King and Balloon machine, which I had never seen out in the wild before.  It's hard to see, but it's the one with the yellow sides.
On the back wall they had a row of all three Donkey Kong games, and a Star Wars machine. Elsewhere they did have a Mario Bros. arcade cabinet and two PlayChoice 10's!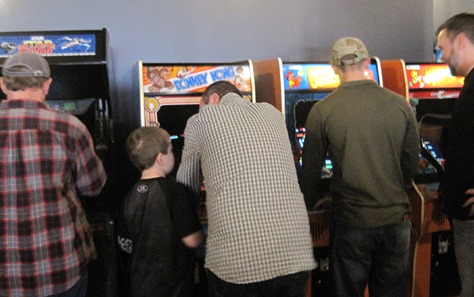 Also on the back wall was a selection of pinball machines. I hear that pinball tables are a pain to maintain!
Here's a closer shot of the Super Mario Bros. pinball machine. I've seen and heard of this game several times, but I've never gotten a chance to play it for very long.  It's a pretty fun little table, especially if you're a Mario fan.
Here's a picture of my brother Jeff (at least his hands anyway), playing Tapper. He loved that game when he was little.  He'd play the Root Beer Tapper version on one of my arcade collections and when the game got too hectic, he'd say, "Ahhh!  They're too thirsty!"  That cracked me up.  This is the original Tapper cabinet, which they tried to market to bars originally, as you serve Budweiser beer and the cabinet has a tap on the controls for serving drinks, and even has bar footrests on the cabinet!  I think my brother Jeff got the high score on this game as well as others like Frogger.  I'm glad he got to come so he could better understand why arcades were so cool when I was a kid.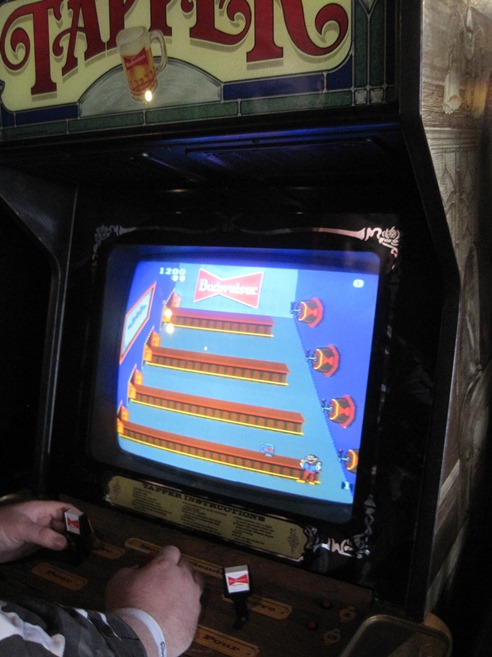 Speaking of high scores, my claim to fame this trip was getting the high score on Mr. Do! Yeah!  You can barely see it because it's so blurry, but there are my initials on top: CDW.  I'm pretty good at Mr. Do! I won't be winning any Twin Galaxies high score records on it or anything like that, but I can hold my own.
And those are all the pictures I took. Well I took a few more, but they were a bit too blurry so I didn't post them.  They had a lot more arcade machines than what I pictured, though.  They had everything from Pac-Man and Ms. Pac-Man, Street Fighter 2 and Mortal Kombat, and nearly everything in between.  The music in the background was all from the 80's, too!  Again, these pictures were taken a couple of months ago, so they have other new arcade machines now.  Like I said, visit their Facebook page if you want to learn more about them.  Hopefully I'll get to go back there someday!  –Cary