Posted on
September 23rd, 2016
by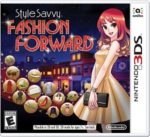 Style Savvy is a fashion designer video game published by Nintendo.  The newest entry in the series, Fashion Forward, was recently released on 3DS.  Ali Capasso, a good friend of mine and also an accomplished elementary school teacher, reviewed this game for me.  She's also the wife of Leroy Capasso, another very good friend of mine who has written reviews here for me before.  Anyway, Ali is a huge fan of the Style Savvy games, so you'll definitely want to click here to read her review!
The first Style Savvy game was released in America in 2009.  The premise of the games has always been a highly customizable fashion centered world in which players create an avatar and design a fashion empire.  The player owns their own fashion boutique and fully controls the items stocked in the store as well as the overall customer experience.  In addition, players can participate in fashion contests in town to earn various exclusive clothing prizes.  Some players may also enjoy dressing up their avatar and altering their hair and makeup.  The player's "apartment" is also fully customizable.  I have always enjoyed the franchise and have found a large number of other adult female gamers who also enjoy the games.  I have been eagerly awaiting this new edition and the new features do not disappoint!
The storyline of the new game is very interesting.  It turns out that the world of Style Savvy is actually a miniature world that your character is pulled into after your grandmother gives you a mysterious key.  In the miniature world of Beaumonde City, your character finds a new friend named Sophie who asks you to run the local fashion boutique.  The strange addition of this magical storyline really does little to add to the game, but it is interesting.  From there the game is very similar to other versions, though the miniature storyline comes into play, which is a nice addition.
One big change from the other games in the series which becomes apparent as you play is that you are no longer limited to managing a fashion boutique.  In this installment you can choose a number of jobs including fashion designer, hairstylist, makeup artist, and model.  Debatably the best new feature is the possibility of designing your own clothing, which I found to be highly satisfying.  In addition to all these choices, you also have access to your own dollhouse for customizing, making you an interior designer as well!
Success in the main game mode of fashion stylist depends on the attention paid to the in game dialogue and the style of the people you're dressing up.  For instance, you would not give a customer with a preppy look a pair of gothic looking shoes.  They may also ask for something specific, such as a "plain white dress" or "effortlessly chic shoes".  It is up to you to determine what that means.  If you make a mistake, you may have a chance to persuade them to buy the item(s) anyway with a well thought out comment.  If not, you'll lose that customer.  Pleasing the customer is easy at first, but it becomes more and more difficult as the game goes on.  The same is true of the other career paths in the game, though to a lesser extent.  The game operates on a realtime clock, not unlike Animal Crossing.  For the casual drop in and out player, this can be annoying.  It really slows your progress within the game.  An interesting change in this game is that you are also responsible for your own advertising.  In order to get customers, you have to hit the streets and talk to them.  This is another feature that I feel added unnecessary time to the game.  I would much rather be spending that time designing and decorating, however the in game characters are amusing.  For instance, at some point you will meet Imogen, a pizzeria owner who "jumps at small noises," however "macarons help her focus."
For true Nintendo fans, real fun will come in the scanning of amiibo figures later in the game.  Exclusive items can be unlocked by tapping select figurines in the game.  The Mario hat was very satisfying to wear!  Other items include a Yoshi hoodie and a Kirby purse.  A full list of compatible amiibo is available from Nintendo.  
Kid Factor:
The real question is: How will kids like the game?  This is a highly adaptable experience.  Although the gamer can dive deep into some of the more complex features, the more casual player can just enjoy dressing up customers, giving cool haircuts, doing makeup, and designing clothes as well as furnishing the little dollhouse.  This kind of customization was what I really craved in a game as a little girl and I really feel that young girls will enjoy it immensely.  The only problem that I can see is that the only way to unlock all of the features and items in the game involves getting deeper into the minutiae of the fashion business.  This may lower the playability for some of the youngest girl players, say from 6-10, who would like to play dress up a bit and put the game down.  Unless mom is willing to help out a bit, that is.  That being said, this is an excellent game for a preteen aged girl.  There may even be a small amount of educational value in the study of running a business, budgeting to buy new clothes, and learning what is really defined as an "effortlessly chic" pair of shoes.  Style Savvy: Fashion Forward is rated E for Everyone.  –Ali Capasso