Posted on
September 21st, 2016
by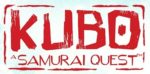 I'm a big fan of stop motion and clay animation.  In fact, I even took a class on it once and now I have lots more respect for the folks who do that kind of stuff for movies and whatnot.  Which is why I keep my eye out on what Laika does.  Laika is a studio which has made stop motion movies such as Caroline, ParaNorman, and Boxtrolls.  Their newest feature, Kubo and the Two Strings, takes elements form Japanese folklore and while the plot is a bit predictable, it's still fun and visually stunning.  Sadly, the mobile game tie-in, Kubo: A Samurai Quest, is yet another match-three puzzler, but I had to take a look at it anyway out of curiosity.  It's available free-to-play on iOS and Google Play, but reviewed on iPad here.
The 'plot' of the game is loosely based on the movie, although I don't remember them visiting so many villages and fighting as many origami creatures.  Gameplay is like any other match-three puzzler. In each stage you might have to do something different, like reach a certain score in a certain number of moves, match certain pieces in a time limit, or battle origami creatures with your own.  The battles of the game are most like Puzzle Quest, and you can form a team of origami animals and level them up.  Certain types of creatures are weak against others, so you must use strategy in forming your team.  Winning stages earns you coins and diamonds that you can use to buy power-ups and continues, as well as origami boxes to add to your team of paper fighters.
As a free-to-play game, there are some annoyances here and there.  Each stage you play cost one unit of energy, and it doesn't refill when you win, so you don't get to play for very long.  You must also wait to open origami boxes, but luckily you don't have to wait too long.  The game gets hard around level 20 or so, because they want you to spend real money on power-ups and such, but you can still win with sheer luck.  The game is a bit choppy and froze up on me once, and it's sad that such a creative movie gets such a tired cash-in of a game.
Kid Factor:
Violence is very minimal, as you just battle paper origami creatures.  If you're ok with your kids watching the movie, they'll be ok with the game.  Reading skill is needed for the text, and parental supervision is recommended for the in-game purchases.